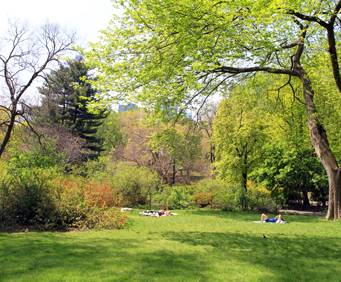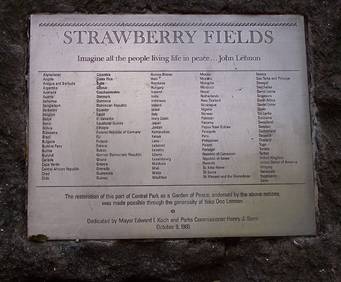 Strawberry Fields in Central Park in New York City, NY
The following tours visit Strawberry Fields in Central Park:
The following tours go by Strawberry Fields in Central Park:
This living memorial to John Lennon is inside
Central Park
and is a designated spot of tranquility.
After the death of the world-famous singer, songwriter and peace activist, a place where people could come together and honor and remember Lennon was desperately needed. Inside Central Parks, the Strawberry Fields memorial was created, named after one of Lennon's band's most famous songs "Strawberry Fields Forever."
The memorial was dedicated officially on October 9, 1985, on the 45th anniversary of his birth. His wife, Yoko Ono, worked with landscape architect Bruce Kelly and the Central Park Conservancy to create a place in the park for Lennon to be remembered. His music gave hope to people around the world, inspiring them to do good and find peace in the world. His own campaign for peace lives on in the memorial.
Strawberry Fields is a designated "Quiet Zone," and is shaded by American elms. Visitors sit in the benches that line the memorial to pay their respects and honor the legend. In warmer months, a breathtaking display of brilliantly-colored flowers bloom. Near the mosaic, which has the word "Imagine" engraved in the center, there is a bronze plaque that lists all 121 countries that endorse the memorial as a Garden of Peace.