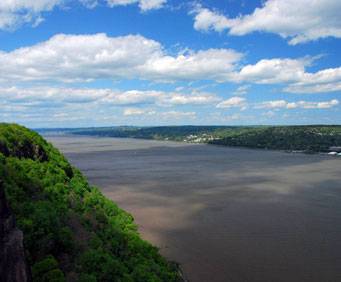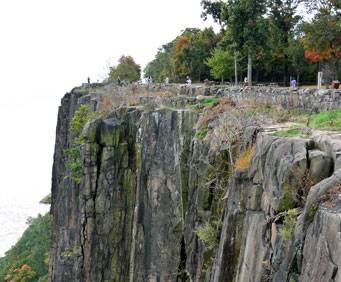 State Line Lookout near New York City, NY
State Line Lookout is a scenic overlook on the Palisades with a refreshment stand and gift shop. It is situated at the highest point on the Palisades Cliffs (elevation 527 ft.), about a mile south of the New Jersey–New York state line. The area is open every day during daylight hours only. There is no fee for parking.
State Line Lookout has its own exit from the Palisades Interstate Parkway in Alpine, New Jersey, about 2 miles north of Exit 2. The area provides access to some of the best hiking in the New Jersey Palisades, as well as over five miles of cross-country ski trails. An accessible overlook is also provided, and restrooms are available.
Lookout Inn, built in 1937 by the Works Progress Administration, is a refreshment stand and gift shop at State Line Lookout, offering a lunch and snack menu as well as a wide variety of books, gifts, and other items. Books include titles on outdoor activities, nature, and history, with a particular emphasis on the Hudson River Valley. It is open from 9:30 AM to 5 or 6 PM (depending on season), every day except Good Friday, Thanksgiving, Christmas, and New Year's Day. The building is wheelchair accessible.