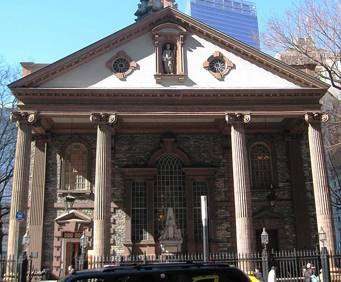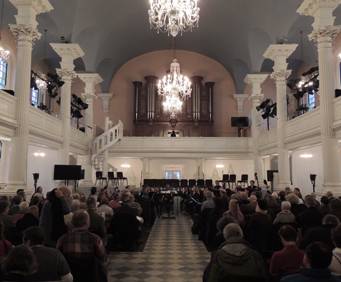 St. Paul's Chapel in New York City, NY
209 Broadway New York, NY 10007
St. Paul's Chapen in Manhattan opened in 1766, making it the city's oldest public building.
St. Paul's is known for being the place of worship for George Washington and place of care for 9/11 recovery workers. The chapel is a part of the Episcopal Parish of Trinity Church, as well as a center for worship and the arts, a community of reconciliation and a place of pilgrimage.
Visitors can attend worship at Sunday services as well as daily prayers for peace, concerts and other religious events. Labyrinth walks and community sing-along are ways that are used to bring the people of the parish together.
On September 11, 2001, the chapel was the place of refuge for recovery workers. When the World Trade Center buildings collapsed just across the street, no physical damage came to St. Paul's. From that September to the following May, the chapel opened its doors to all the firefighters, construction workers, police officers and anyone who needed assistance for meals, beds, counseling and prayer.
The chapel is also surrounded by a churchyard, filled with gravestones and memorials dating back to the Revolutionary War. The Bell of Hope was gifted to St. Paul's Chapel by its sister church St. Mary-le-Bow in London as a memorial to 9/11 and the mission work of the Chapel.
The following tours visit St. Paul's Chapel:
The following tours go by St. Paul's Chapel:
The New York See It All Tour is exactly what it sounds like: an all-encompassing guided tour of New York City.