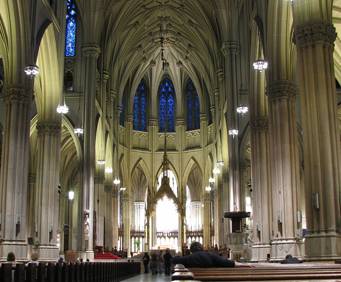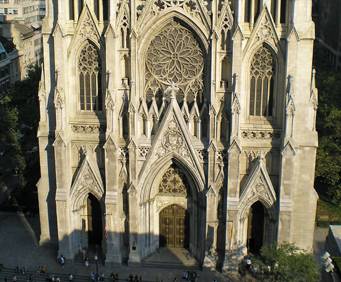 St. Patrick's Cathedral in Manhattan, NY
460 Madison Ave New York, NY 10022-6863





(
5.0
)
Based on

3

reviews ↓
The largest Gothic church in the United States with stunning architecture and stained glass, St. Patrick's Cathedral is also known as the hub of the nation's Catholic society.
Seating about 2,200 people, the construction on the cathedral began in 1858 and has survived over the years in near pristine condition, with the help of renovations and add-ons. Its 13th century style is imprinted in stone with the 330-foot tall spires, dramatic concrete arched ceilings, and intricate stained glass. The famous rose window alone is 26 feet wide, an incredible sight when sunlight is shining through.
Located in the heart of Manhattan on 5th Avenue and 50th Street, this graceful cathedral is visited by over 3 million people a year who come to see the giant organs, solid bronze altar, and striking gothic architecture. A landmark with a colorful past, the cathedral has fascinating points of interest such as the grand bronze canopy, and the crypt under the high altar where the Archbishops of New York are buried. Visit the St. Patrick's Cathedral for a service or just marvel at the ancient workmanship and opulence.
The following tours visit St. Patrick's Cathedral in Manhattan, NY:

The New York See It All Tour is exactly what it sounds like: an all-encompassing guided tour of New York City.





The following tours go by St. Patrick's Cathedral in Manhattan, NY:
Events at St. Patrick's Cathedral in Manhattan, NY