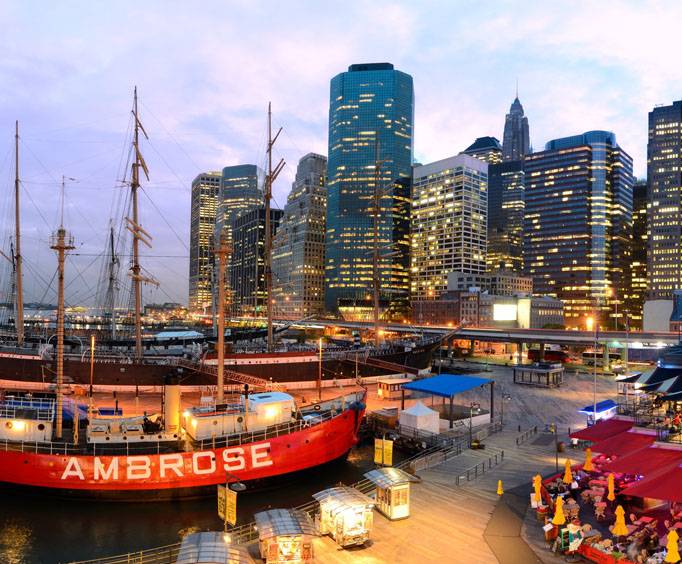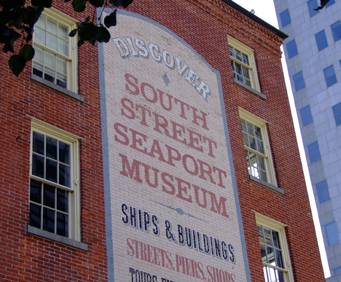 South Street Seaport in New York City, NY
62 Chelsea Piers New York, NY 10011
The South Street Seaport has a legacy of retail and tourism.
The area was once a noisy and gritty New York City wholesale fish market. This atmosphere still lingers in some of the older commercial buildings, made of brick and stone. The buildings still are tied to the East River, the Brooklyn Bridge, and the piers.
Since the passing of the days of the fish market, the Seaport district has been historically preserved while development springs up. In the 1960s, the South Street Seaport Museum was founded. In the following decade, Schermerhorn Row was restored. Next, The Rouse Company developed Pier 17, where concert events frequently take place now. Even in more recent years, preservation and development have existed side by side. New designs and historic and natural elements are drawn upon in these actions, keeping the memory of the fish market days alive while still allowing the district to grow.
In Seaport, visitors can travel to the west side of the Franklin D. Roosevelt Drive to see the historic buildings there. On the east side, the Tin Building, once an active marketplace, still stands, over a century old. The Tin Building was the spot where the city's fish was imported and processed. In 1995, a fire destroyed the building almost entirely, leaving it vacant and waiting for its turn at a grand restoration.
The following tours visit South Street Seaport:

4/21/2019 - 3/31/2020
Experiencing the thrills of New York City first-hand has never been as easy or exciting as with this 48-hour pass to enjoy over 50 stops throughout the Big Apple from the luxury of a Double Decker Bus.

The New York See It All Tour is exactly what it sounds like: an all-encompassing guided tour of New York City.





The following tours go by South Street Seaport:

Be a part of all that New York City has to offer when you take the New York, New York Sightseeing Tour which includes top highlights of the Big Apple.


The ZEPHYR Seaport Liberty Cruise offers you a relaxing and entertaining way to venture out onto the water and learn about the various landmarks of the area, including Ellis Island, the World Financial Center, and of course, the Statue of Liberty.

South Street Seaport is a Tour Stop / Pick Up for the following tours:

With the New York Water Taxi, you can enjoy a One Day Hop-On/Hop-Off Pass that will allow unlimited use throughout the duration of your pass, with the taxi serving nine popular areas of New York City.