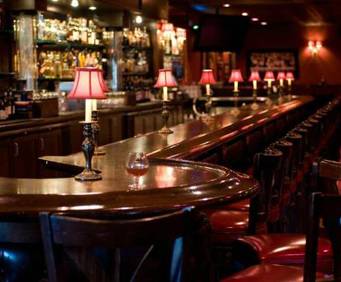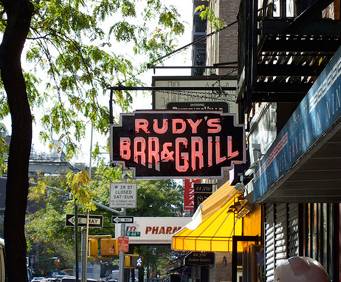 Rudy's Bar and Grill in Hell's Kitchen, NY
627 9th Ave New York, NY 10036
Opened in 1933, Rudy's Bar & Grill was one of the first liquor licenses issued in NYC after the lifting of prohibition. Jack, the current owner, started drinking at Rudy's back in 1943, when
Hell's Kitchen
really was Hell's Kitchen. With such a long and colorful history, Rudy's could be the most well-known bar in the city.
Still welcoming patrons into the bar is the wooden door from the day it opened. Walk in to feel the atmosphere of the old neighborhood saloon, and enjoy some cheap beer, free hot dogs and great people.
It's rumored that Rudy's Bar & Grill was originally a speakeasy in 1919, before it became a bar. These rumors continue to say that it was often visited by Al Capone. Other notable visitors to the bar include James Gandolfini, Paul McCartney, Drew Barrymore, Julia Roberts, Christina Hendrix, Slash, Halle Berry, Ethan Hawke, Frank Sinatra, Johnny Knoxville, Irvine Welsh, Anthony Bourdain, Pauley Perrette and Colm Meaney.