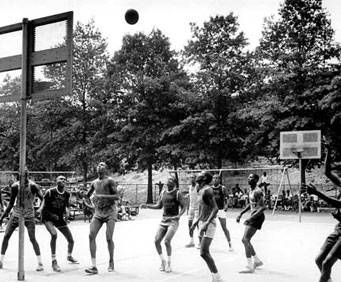 Rucker Park in New York City, NY
155th Street and 8th Avenue New York City, NY 10039
If you're a fan of basketball, then Rucker Park certainly brings to mind a vivid picture of pick-up games and NYC's all-time best basketball players.
If you're not privy to the ins and outs of basketball, then Rucker Park is certainly the place to start learning. This legendary park has transformed from a simple basketball court in Harlem to a cultural landmark of urban life and the sport of basketball, due in large part to the annual Entertainer's Basketball Classic, a semi-professional tournament that is held there each summer.
Of course, if you do plan on showing up to Rucker Park don't plan on stepping on the court unless you have the skills to hang with the best in the nation. On any day you'll find only the most elite of New York City's amateur players inhabiting the court, and may even find the likes of Stephon Marbury or Rafer Alston, NYC born NBA stars, showing the amateurs how it's done.