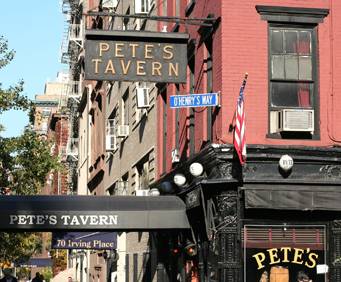 Pete's Tavern in New York City, NY
129 E 18th St New York, NY 10003
As the oldest continuously operating restaurant and bar in NYC, Pete's Tavern is a historical landmark in New York. It serves the best in Italian-American cuisine. Its famous 1864 House Ale draws in crowds. The food and drinks are high-quality, and so is the service. At the last turn of the century, even O. Henry became a regular.
Pete's Tavern is filled with traditions. For more than 140 years, the restaurant and bar has been serving its patrons with excellence. It also boasts a private Skylight Banquet Room, which they do not charge any extra fees for guests to rent out. There are many menu plans, like open bars and buffets, that are available as well.
Pete's staff of chefs, servers and bartenders are always experts at their jobs, and are available for off-premise catering services.
Come in for brunch, lunch, dinner, a drink, a special event or any reason. There is always a wide variety of delicious menu options available for your selection. Weekly specials include Monday Night Six Classic Pastas, Tuesday Night Roast Prime Rib and Wednesday Night Seafood Cornucopias.
Pete's Tavern was also the site where writer O. Henry would allegedly write some of his short stories. Henry lived just down the street from his bar, and the local legend is that he wrote "The Gift of the Magi" in the second booth from the front. The bar appeared in the story "The Lost Blend" under the name "Kenealy's."