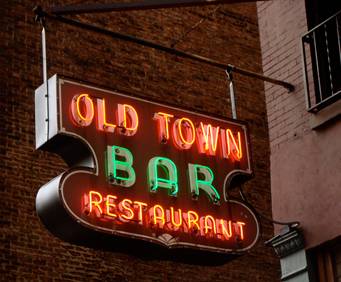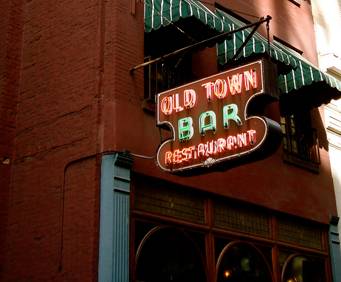 Old Town Bar in New York City, NY
45 E 18th St New York, NY 10003
Located between Park and
Broadway
on 18th Street in the Flatiron district of New York City is the Old Town Bar and Restaurant, one of the oldest bars in the NYC area. The bar dates back to 1892 and has been referenced in various forms of media. The rap group House of Pain used Old Town as a backdrop for their "Jump Around" music video in '92. Whit Stillman used it in
The Last Days of Disco
.
The Devil's Own
,
State of Grace
,
Q & A
and
Bullets Over Broadway
have all also presented Old Town Bar. For eleven years, the bar was also in the opening montage of
Late Night with David Letterman
.
The bar spreads a total length of 55 feet, made of marble and mahogany. The ceiling stands 16 feet high. Many of the decor and furnishings are the original ones, like the oldest dumbwaiter in New York, which ferries food orders from the upstairs kitchen to the downstairs bar. The row of old-style, full-length urinals in the men's restroom is also a notable feature, as well as the original creaky wooden staircase that leads to the dining room.
Old Town Bar draws in many guests. Wall Street traders and college students have been known to frequent the bar. It is known as a conversation bar, the perfect place for friends to come for a beer and a burger and to talk.