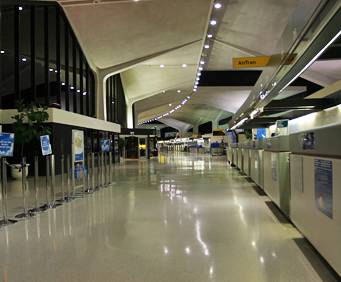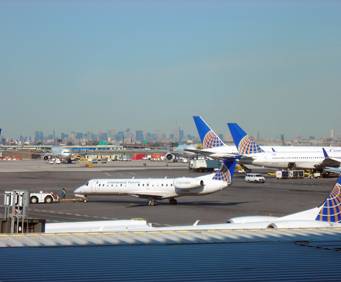 Newark Liberty International Airport near New York City, NY
1 Brewster Road Newark, NJ 07114
Located in the city of Newark, NJ, Newark Liberty International Airport is one of the primary commercial airports serving the New York metropolitan area. Besides offering flights to hundreds of destinations including dozens of international ones, this airport has an array of shops and dining options. Terminal A, Terminal B and Terminal C have private lounges, great restaurants and duty-free shops for ticketed passengers, and non-ticketed individuals can still have access to some of the retailers and food courts.
A convenient and fun way to get around the grounds of Newark Liberty International Airport is to ride the AirTrain Newark. This automated people mover makes stops at all terminals, parking garages and parking lots. While riding the AirTrain Newark, passengers can enjoy great views of the Newark and New York City skylines and catch glimpses of the nearby Port of Newark. Of course, many of the public and private lounges in the terminals Newark Liberty International Airport also offer clear views of dozens of different airline carriers landing and taking off the runways.
Newark Liberty International Airport is conveniently accessible by public rail transportation that is operated by New Jersey Transit as well as Amtrak. Additionally, the airport is located just off multiple exits on Interstate 95. As a major hub for United Airlines, this airport offers direct flights to some of the biggest cities in the United States of America. Besides offering many options for domestic and international flights, Newark Liberty International Airport is a great stop for shopping and dining just outside of Downtown Newark and New York City. Priceless views of the Manhattan skyline await visitors and passengers of this regional transportation hub.