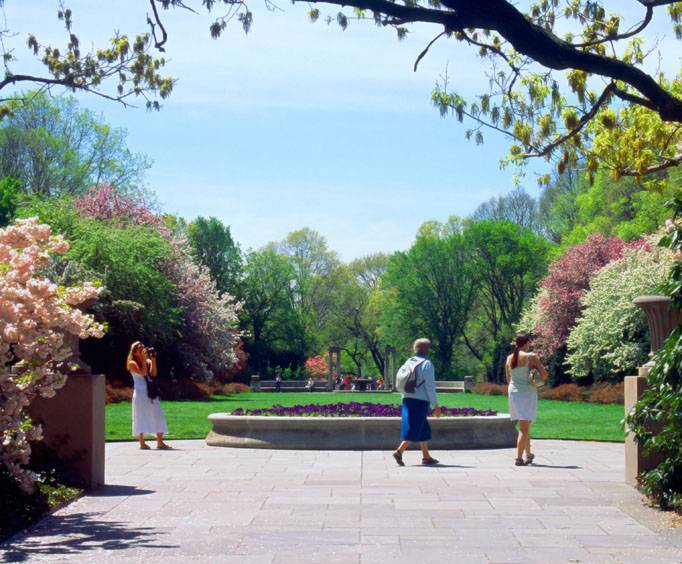 New York Botanical Garden in New York City, NY
2900 Southern Blvd Bronx, NY 10458
Located in the Bronx section of New York City, NY, the New York
Botanical Garden
is a living plant museum that covers 250 acres. Dozens of temperate, desert, and tropical plant collections and gardens are featured at this attraction, that is open year-round.
A rose garden with more than 650 types of roses, tree and shrub collections, a native plant garden, a conifer arboretum, an herb garden, and a perennial garden are all featured at the New York Botanical Garden. A large conservatory/greenhouse that opened in 1902 is situated within the New York Botanical Garden, and a plant research laboratory is on the premises. An actual forest that contains many varieties of trees is also living and growing on the grounds of this fascinating facility.
The New York Botanical Garden was built in 1891, and is a National Historic Landmark. A wide range of educational programs are regularly presented at the New York Botanical Garden. Hundreds of classes in gardening, design, art, and the environment are offered on a regular basis.
A refreshing oasis of greenery in the city, the New York Botanical Garden is a wonderful place to visit at any time of the year. Two family friendly cafes and an upscale full-service restaurant are provided at this NYC attraction, and parking options are provided. When you're in New York City, try to stop by and enjoy this beautiful attraction. The New York Botanical Garden is easily accessible by bus, railroad or subway.
Events at New York Botanical Garden