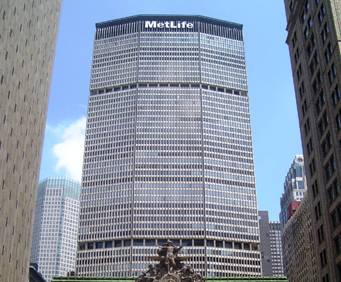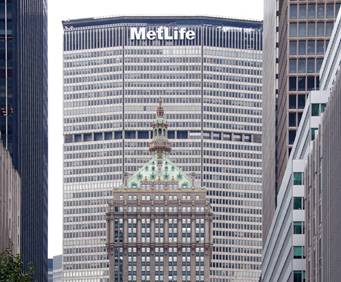 MetLife Building in New York City, NY
200 Park Ave New York, NY 10166
When the MetLife building was opened in 1963, it was known as "The Pan Am Building" and was the focal point of Park Avenue.
The building was constructed as a part of the plan to reconstruct Grand Central Terminal. Erwin S. Wolfson, Emery Roth and Sons, Walter Gropius and Pietro Bellushi teamed up to create it in the early 1960s. The MetLife Building covers the area between East 43rd Street and East 45th Street, providing direct access to Grand Central Terminal.
Throughout the years since its opening, the building has been the headquarters for Pan Am World Airways, Rogers & Wells, The Dreyfus Corporation, Kidder Peabody, Lehrer McGovern Bovis, Metropolitan Life Insurance, Mitsui USA & Company, Sky Club, Whitman, Breed Abbott & Morgan and Barclays Bank.
Metropolitan Life Insurance Company bought the building from Pan Am in 1981, though the name of the building did not change until 1993. The MetLife logos can be seen from as far away as lower Manhattan and Central Park. The Vanderbilt Avenue lobby holds two pieces of original artwork from the building, the bronze bust of Erwin S. Wolfson and the wire sculpture "Flight" by Richard Lippold. Inside, you can find a health club, fine restaurants, shops and child care.
The following tours go by MetLife Building:
The New York See It All Tour is exactly what it sounds like: an all-encompassing guided tour of New York City.