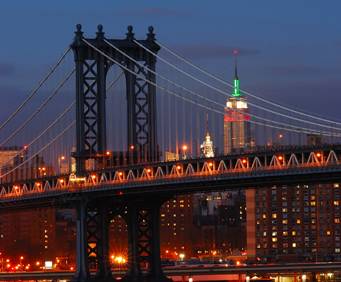 Manhattan Bridge in New York City, NY
The Manhattan Bridge is a beautiful structure that carries automobile, truck, subway, bicycle and pedestrian traffic over the East River from Downtown Brooklyn to Chinatown, Manhattan.
The bridge opened on December 31, 1909 and was completely finished in 1910 after several years of construction. Leon Moisseiff was the designer of the bridge. Moisseiff also helped design both the George Washington and the Robert F. Kennedy Bridges. It stretches across approximately 6,000 feet on the upper roadways and each cable is about 3,200 feet long.

On the Manhattan side of the bridge, you can enter through an elaborately-designed plaza and stone portal that was designed by the architects Carrère and Hastings. This architectural team also designed the main branch in the New York Public Library.

The Manhattan Bridge was built on deflection theory, which stated that the inherent structure in suspension bridges actually made them stronger than what was originally thought; therefore, the design eliminated massive stiffening trusses that bridges like the Williamsburg Bridge had. The Manhattan Bridge was the first bridge to be built on this theory.
The following tours visit Manhattan Bridge:

4/24/2019 - 3/31/2020
Experiencing the thrills of New York City first-hand has never been as easy or exciting as with this 48-hour pass to enjoy over 50 stops throughout the Big Apple from the luxury of a Double Decker Bus.
The following tours go by Manhattan Bridge: