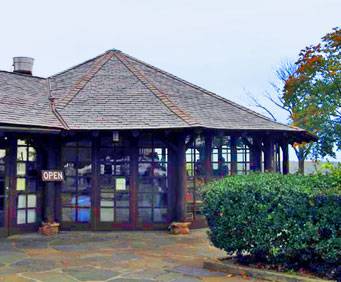 Lookout Inn in New York City, NY
7604 New York 23 East Windham, , NY 12439
The highest point on the Palisades is the refreshment stand, Lookout Inn.
This stand and gift shop provides visitors with meals, snacks, books, gifts and more. It was built in 1937 and resembles a smaller ski chalet. Its native stone and chestnut wood give it a scenic appearance. But when you look out from Lookout Inn to the Palisades, you will get an even more incomparable view. The stand gives visitors one of the best views of the natural landmark.
There are a variety of special events that occur at the Lookout Inn, including guided hikes, children's activities, retreats and fireside programs. Certain events give visitors a feeling of connection with nature, while others travel back in time to the 19th century.