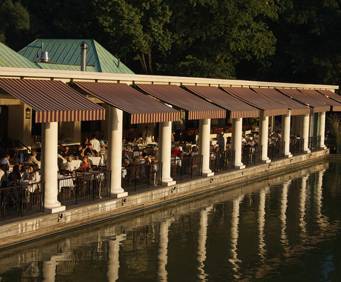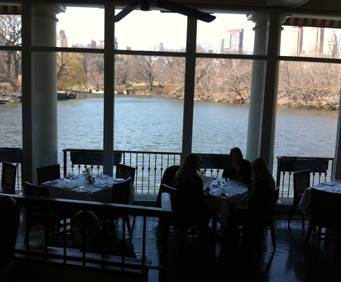 Loeb Boathouse in Central Park in New York City, NY
East 72nd Street and 5th Avenue New York, NY 10021
The iconic Loeb Boathouse offers boat and bicycle rentals, gondola rides, and even an exquisite dining experience all under one striking, green patina-coated roof. It is recommended that visitors make use of its shuttle service, taking passengers to and from
Fifth Avenue
and the Boathouse's 72nd Street location within the Park.
Recognizing the need for a boathouse at the Lake, Calvert Vaux designed a wooden structure that would last from 1873 until 1954. Vaux's beautiful, two-story, Victorian edifice was eventually torn down, though its original purpose was carried out by its replacement, known as the Loeb Boathouse.
Carl M. Loeb opened the new, red brick and limestone Boathouse in 1954. In addition to its traditional functions, the new Boathouse is also the site of the Boathouse Restaurant. With the option of indoor or lakeside seating, at which one can enjoy a seasonal fish dinner, the Boathouse Restaurant is an excellent choice for a relaxing evening spent admiring the beauty of the Park while dining.