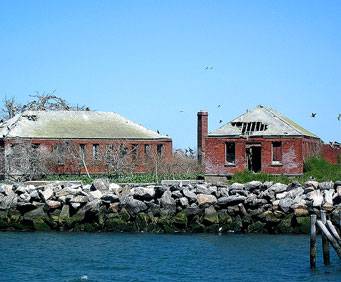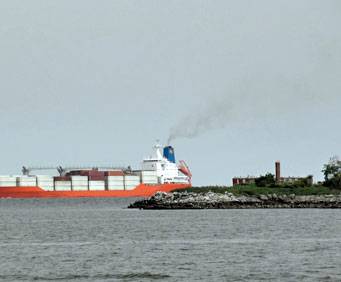 Hoffman and Swinburne Islands in New York City, NY
Hoffman and Swinburne Island are two small, artificial islands that are located off of South Beach in Staten Island in the Lower New York Bay.
The islands were created by Orchard Shoals in the addition of a landfill in the 1870s. They were named after the New York City mayor and governor, John Thompson Hoffman, and a military surgeon in the Civil War, Dr. John Swinburne. Swinburne was originally named Dix Island. Hoffman Island covers approximately 11 acres, while Swinburne covers about 4.

The islands were used in the early 1900s as a quarantine station. Immigrants that were found to carry contagious diseases as they landed at Ellis Island were transported to Hoffman and Swinburne to recover. Then, during WWII, they were used as a training station for the US Merchant Marines. The marines in training would stay in Quonset huts, which still stand on Swinburne. The islands were also used as anchorages for Antisubmarine Nets in order to keep enemy submarines out.

Now, they are managed by the National Park Service. They are inaccessible to the public as a means to protect the wildlife, particularly the wading birds that inhabit the islands. These birds include great egrets, snowy egrets, black-crowned night herons and glossy ibises. The double-crested cormorant can be found in excess on Swinburne, while the great black-backed gulls are dominant on both.