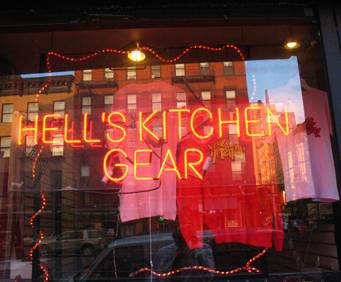 Hell's Kitchen in Manhattan, NY
679 9th Ave New York, NY 10036
Located in Manhattan in New York City, between 34th and 59th Streets and spreading from 8th Avenue to the
Hudson River
, is Hell's Kitchen. This neighborhood, also known as Clinton and Midtown West, was once filled with gang life, so terrifying that the NYPD feared the area.
Gang life arose in the neighborhood after the Civil War. Population decreased and poverty struck the area. Many of the remaining residents turned to gang life, gaining the neighborhood the reputation of the 'most dangerous area on the American Continent.' By the turn of the century, gangs controlled the area. The violent Gopher Gant, led by notorious Owney Madden, was one of the most prominent.
When Prohibition was implemented, violence increased. The warehouses were ideal spots for breweries for rumrunners. Eventually, early gangs, like the Hell's Kitchen Gang, transformed into organized crime entities. When Prohibition was lifted, the gangs turned to other forms of crime, such as illegal gambling and union shakedowns. However, at the end of the 1950s, the implementation of containerized shipping led to the decline of the West Side piers, putting many longshoremen out of work. The construction of the Lincoln Tunnel also devastated much of Hell's Kitchen.
Around this time, Puerto Rican immigrants began to move into the neighborhood in great numbers. The popular West Side Story highlights the conflict between the Irish, Italians and Puerto Ricans.
Today, however, Hell's Kitchen has drifted from its history of crime and has become an upscale neighborhood, full of actors, writers, artists, filmmakers and professionals. Notable residents have included Alicia Keys, Mickey Rourke, Tony Orlando, Robert DeNiro, Sylvester Stallone, Tom Hanks, Bruce Willis and many others.