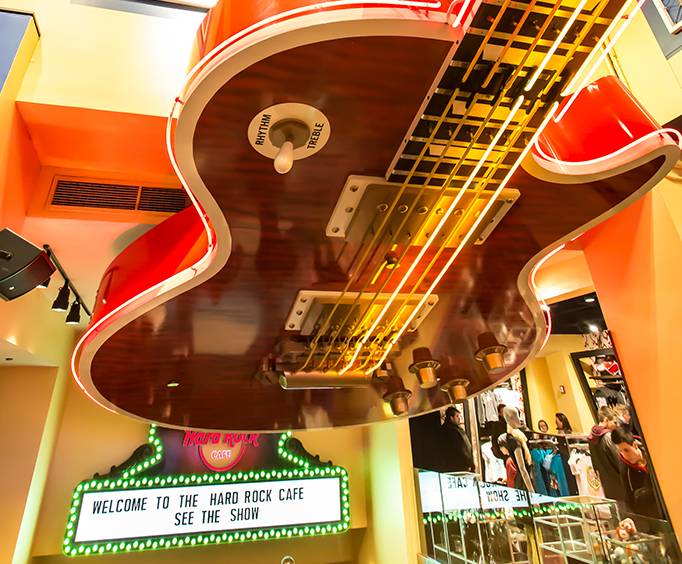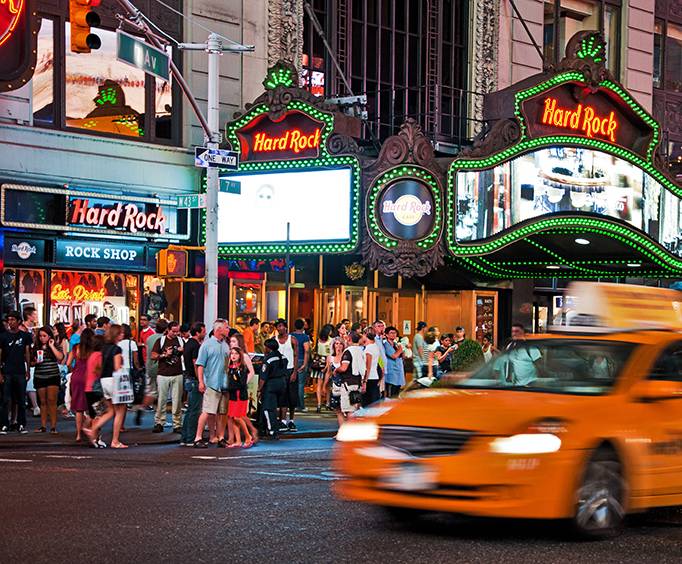 Hard Rock Café in New York, NY
1501 Broadway New York, NY 10036
One of the most famous dining and entertainment spots in New York City, the Hard Rock Café New York is situated in the always-exciting
Times Square
area.
This cafe is known for its extensive collection of actual items that were used by legendary musical artists, as well as lots of NY-related rock and roll memorabilia.
The Hard Rock Cafe chain started in 1971, and there are now hundreds of these cafes located worldwide. At the New York City cafe, you can see the wooden doors from the Abbey Road studio, Bo Diddley's first guitar, and hand-written song lyrics from Jimi Hendrix. A large retail shop that sells a broad spectrum of Hard Rock merchandise is also on the premises.
Lunch and dinner are served daily, and breakfast is served on Saturday and Sunday at the Hard Rock Café New York. The food menu at this NYC landmark offers appetizers, salads, sandwiches, entrees, burgers, smokehouse items, desserts and more.
Due to its location in world-famous Times Square, the Hard Rock Café New York is a very popular attraction that regularly draws visitors from all over the world. There are lots of interesting things to see and do all around this cafe, that is easily accessible by public transportation. If you're in the NYC area, it's always a good idea to visit this fascinating establishment. In addition to enjoying great food, beverages, and rock music culture, you can also purchase a classic Hard Rock Cafe tee shirt.