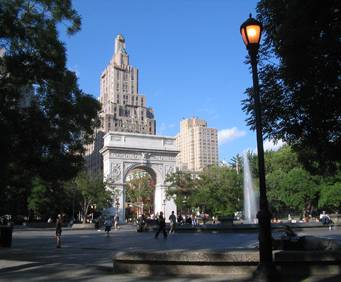 Greenwich Village in New York City, NY
13 Carmine St , 14th Street and West of Broadway New York , NY 10014
Quite possibly the most famous area in all of New York City, Greenwich Village has long been noted for its unique and often eccentric atmosphere.
Located in downtown Manhattan, this charming neighborhood is contained by Broadway and the Hudson River. Interestingly enough, Greenwich Village's street layout does not conform to the usual grid structure of the rest of the city. This unique street layout further helps to exemplify the individual feel of this area.
Since its beginning days, Greenwich Village has attracted a host of artists, performers and various others who walk the unbeaten path. From the soothing sounds of Paul Simon to the edgy comedy styling of Richard Pryor, Greenwich Village has helped launched the careers of an endless variety of performers, and to this day maintains its appeal for those looking to experience something a little different in New York City.
The following tours visit Greenwich Village:

4/23/2019 - 3/31/2020
Experiencing the thrills of New York City first-hand has never been as easy or exciting as with this 48-hour pass to enjoy over 50 stops throughout the Big Apple from the luxury of a Double Decker Bus.
The following tours go by Greenwich Village:
Greenwich Village is a Tour Stop / Pick Up for the following tours:

With the New York Water Taxi, you can enjoy a One Day Hop-On/Hop-Off Pass that will allow unlimited use throughout the duration of your pass, with the taxi serving nine popular areas of New York City.