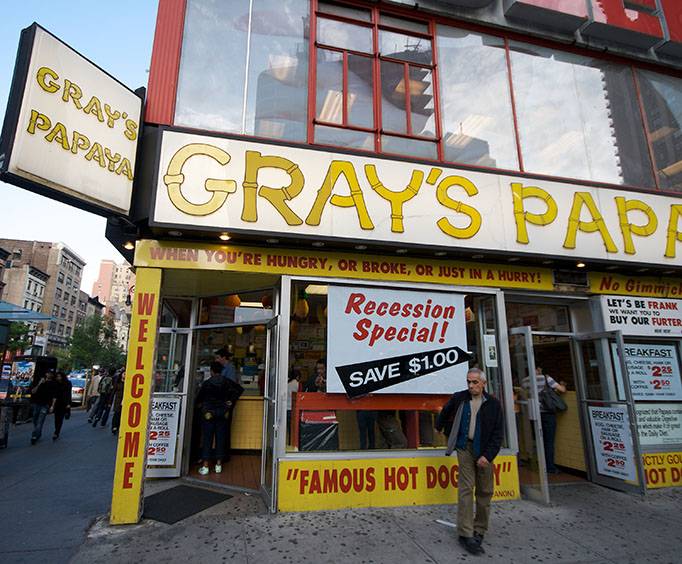 Gray's Papaya in New York, NY
2090 Broadway New York, NY 10023
If you're visiting New York City and find yourself on the
Upper West Side
, you must grab a hot dog from the famous Gray's Papaya on
Broadway
. Gray's Papaya is just like its home-open 24-hours and offering only tried and true favorites. Founded by former partner of the equally ubiquitous King's Papaya, Gray's is a New York staple and a must-have on during your visit.
Gray's has been serving high quality, inexpensive frankfurters since 1973, which is their valiant nod to catering to the regular masses. The chain took it a step forward by warmly endorsing President Barack Obama during his campaign run in 2008 with a "Recession Special" meal, which offered two franks and a drink for $3.50. It's main seller, and lender of it's name, is their papaya fruit drink that is sweet and always refreshing no matter the time of day. Gray's also sells non alcoholic coladas, daiquiris and a New Yorker's dream called coconut champagne, which are all perfect to cap off your night cap.
Gray's has also been featured in a slew of notable movies, music, books and tv shows, with this West 72nd Street and Broadway location acting as the famous face. From movies like 1979's The Warriors to an issue of The Avengers comic book, Gray's Papaya has made its name synonymous with the city's other landmarks.
So if you're at the Met Opera house or near Columbus Circle swing by Gray's for a true taste of New York.