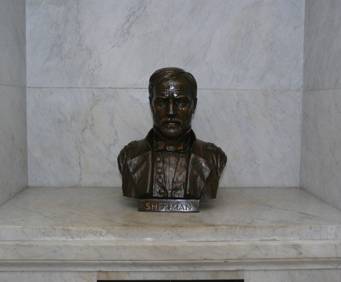 Grant's Tomb in Riverside Park in New York City, NY
W 122nd St & Riverside Dr New York, NY 10027
The following tours visit Grant's Tomb in Riverside Park:
The following tours go by Grant's Tomb in Riverside Park:
1/21/2018 - 12/1/2018

Exploring New York has never been as easy as it is with the Manhattan Experience Tour!
The New York City Tour in Foreign Languages gives international travelers the tour that they need in their own language.





Take a guided shuttle tour of the best attractions that New York City has to offer with the New York See the Best Tour!

Grant's Tomb was dedicated in 1897 and is the second largest mausoleum in the Western Hemisphere, behind the Garfield Memorial.
The tomb was created in the neoclassical style, adorned with Doric columns on the lower level with a cupola on the top. It rises 150 feet above the ground, putting it more than 280 feet over the Hudson River banks. John H. Duncan, the architect of the monument, imagined a "Monumental Tomb, no matter from what point of view it may be seen." Symbolically, the monument faces south.

Where to bury Ulysses S Grant was an immediate issue. He was one of the great captains and a preeminent American during his time, so it was agreed that wherever he was laid to rest, it must reflect his stature. Grant had picked out three different cities he considered a possibility for his burial site: St. Louis, Missouri; Galena, Illinois; and New York City, New York. His only wish was that his wife would be buried with him.

The NYC Mayor at the time, William R. Grace, set aside land in one of the parks for burial, and Grant's family chose Riverside Park for its high point of elevation overlooking the Hudson River.

MOST POPULAR THINGS TO DO
IN NEW YORK NEW YORK