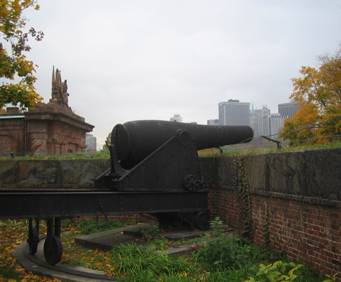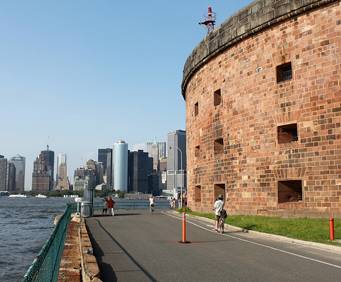 Governors Island in New York City, NY
Hundreds of thousands of NYC citizens and tourists visit Governors Island each year for the art, culture and recreation that are featured.
Native Americans once camped at Governors Island due to its location near ample fishing opportunities. In 1637, the island was purchased by the representative of Holland, Wouter Van Twiller, from the 'Manahatas' Native Americans for the cost of two ax heads, a string of beads and a handful of nails. Afterward, the island was known as Noten Eylant, or Nutten Island, and was used for Van Twiller's own use. It was confiscated by the Dutch government a year later.
The English took over Nutten Island in 1664. It had been left unfortified by the Dutch and was easy to capture. Over the next decade, however, the British and the Dutch switched hands over the island until the British regained control of the island for the use of 'His Majesty's Governors.' Afterward, it was named Governors Island.
The state of New York took control of the island after the Revolutionary War, before handing it over to the U.S. government for military uses. Fort Jay and Castle Williams were reconstructed and built on the island. In 1966, the Coast Guard gained control, becoming the largest installation of the Coast Guard.
Many other historical events took place on the island. It was the setting of the relighting of the Statue of Liberty in 1986. President Reagan hosted a U.S.-U.S.S.R. summit with Mikhail Gorbachev here in 1988. The United Nations sponsored talks on the island. 22 acres of the island were designated as the Governors Island National Monument in 2001. The island was sold to the people of NY in 2002.
Since then, a public high school, an artist studio program and a park all also more recently called the island home. It has become New York City's 'Playground for the Arts.' Cultural events, food festivals, concerts, performances and more are hosted throughout the year.
Events at Governors Island