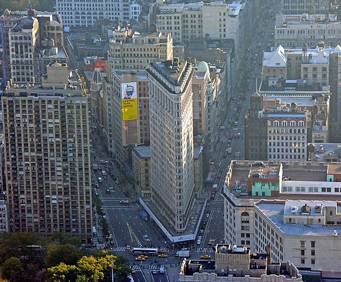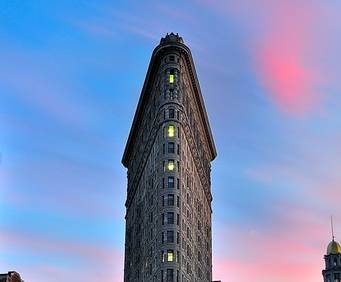 Flatiron Building in New York City, NY
175 5th Ave New York City, NY 10010
The Flatiron Building (formerly known as the Fuller Building) is a groundbreaking skyscraper, built in 1902.
When construction was finished, the Fuller Building was one of the tallest in the city. It was also the only skyscraper north of 14th Street. The building rests on a triangular island-block that is formed by Fifth Avenue, Broadway and East 22nd Street. 23rd Street touches the northern peak of the triangle. The name was changed to Flatiron, deriving from the resemblance of clothes iron, by popular demand by locals.
The neighborhood around the building is known as the Flatiron District. The building was named a NY City Landmark in 1966, was added to the National Register of Historic Places in 1979 and became a National Historic Landmark in 1989. It stands at a height of 285 feet with 22 floors.
Original tenants of the building, other than the Fuller Company itself, included publishers, an insurance company, some small businesses, music publishers, a landscape architect and other companies. Now, it is a popular tourist destination, as well as a functioning office building. Publishing companies such as St. Martin's Press, Tor/Forge, Picador and Henry Holt and Company are currently resided in the building.
The following tours visit Flatiron Building:
4/24/2019 - 3/31/2020
Experiencing the thrills of New York City first-hand has never been as easy or exciting as with this 48-hour pass to enjoy over 50 stops throughout the Big Apple from the luxury of a Double Decker Bus.
The New York See It All Tour is exactly what it sounds like: an all-encompassing guided tour of New York City.





The following tours go by Flatiron Building:
4/24/2019 - 10/8/2019
10/10/2019 - 10/31/2019
11/1/2019 - 12/31/2019

Relax in the passenger seats of a luxury motorcoach while a professional tour guide provides you with an insight to the city as the coach cruises alongside hotspots such the Museum Mile, Greenwich Village, and Central Park.