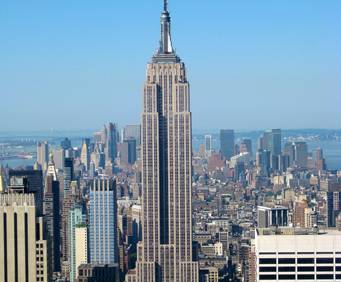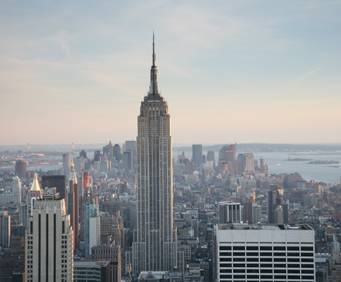 Empire State Building in New York City, NY
350 Fifth Avenue New York City, NY 10118





(
5.0
)
Based on

4

reviews ↓
Located in Manhattan, the Empire State Building stands as a testament to human ingenuity as it rises over quarter of a mile into the New York City sky.
The building's observatory is open every single day of the year, making it no problem to experience the thrill of standing at the top of this National Historic Landmark. Aside from the observatory, the Empire State Building also provides visitors with coffee shops, restaurants, a variety of gift stores, a post office, and even a couple banks.
Ever since its completion in 1931, the Empire State Building has been capturing the fascination and imagination of visitors from around the world with its daring, ingenuity and its genuinely American stance towards architecture. Come experience this piece of American history with a visit to the top of the Empire State Building during your next visit to New York City. Whether it will be your first or 101st visit, the majesty of the Empire State Building never grows old.
The following activities include admission to Empire State Building:
The following tours visit Empire State Building:
4/19/2019 - 3/31/2020
Experiencing the thrills of New York City first-hand has never been as easy or exciting as with this 48-hour pass to enjoy over 50 stops throughout the Big Apple from the luxury of a Double Decker Bus.
The following tours go by Empire State Building:

4/19/2019 - 3/31/2020
The 60-Minute Liberty Cruise tour travels to Ellis Island for an up close and personal look at The Statue of Liberty.
4/19/2019 - 10/8/2019
10/10/2019 - 10/31/2019
11/1/2019 - 12/31/2019

Relax in the passenger seats of a luxury motorcoach while a professional tour guide provides you with an insight to the city as the coach cruises alongside hotspots such the Museum Mile, Greenwich Village, and Central Park.
The ZEPHYR Seaport Liberty Cruise offers you a relaxing and entertaining way to venture out onto the water and learn about the various landmarks of the area, including Ellis Island, the World Financial Center, and of course, the Statue of Liberty.

Events at Empire State Building