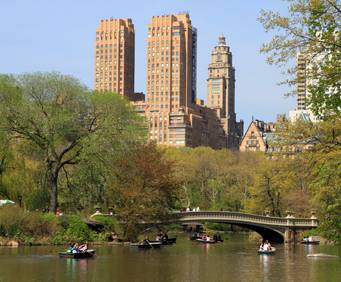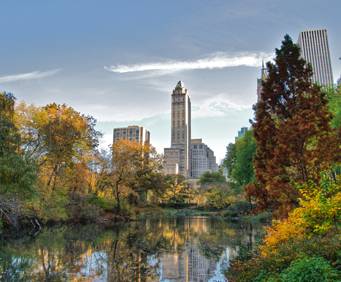 Conservatory Water in Central Park in New York City, NY
5th Ave and 105th St New York, NY 10029
Inspired by the model boat ponds of late 19th century Paris, Frederick Law Olmsted and Calvert Vaux created a place where children and adults alike could experience the pleasure of boating, in addition to the other attractions Conservatory Water has to offer.
Not an original part of Olmsted and Vaux's "Greensward Plan" for the Park, Conservatory Water was initially intended to be a small pool for a glass house and formal, ornamental flower garden. When the upkeep of this plan proved itself too costly, Conservatory Water and Conservatory Garden were created in its place.
This 72nd street site is bordered by the whimsical Alice in Wonderland statue to the north, as well as a sculpture of children's author Hans Christian Anderson reading his tale, The Ugly Duckling, to the west. While open for ice skating during the winter months, the pond is best known as a place for boating in spring and summertime, mentioned as such in E.B. White's Stuart Little. Surrounded by the pink and white blossoms of spring blooming cherry trees, Conservatory Water holds its boating season from April to October each year. Boat rentals are available at the Kerbs Memorial Boathouse, as are lessons for the budding model boat enthusiast.