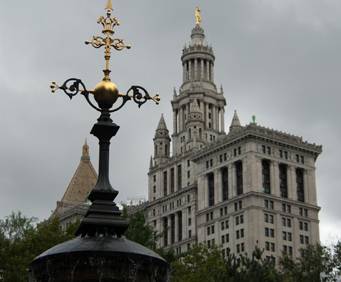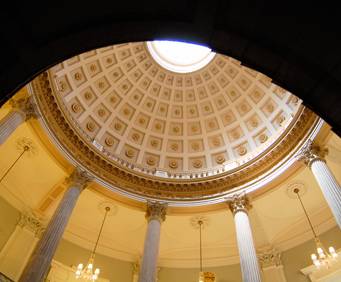 City Hall in New York City, NY
260 Broadway New York, NY 10007
The current city hall building in New York was built in 1811 and opened a year later.
It was built by Jospeh Mangin and John McComb, Jr. Mangin also worked on St. Patrick's Old Cathedral on Mulberry Street, while McComb had designed Castle Clinton in Batery Park. His father had worked on the old City Hall. The construction for the building was delayed because City Council thought the design was too extravagant, so the duo had to reduce the size of the building and replace the use of brownstone with limestone. Yellow fever and labor disputes both also slowed construction. Finally, in 1811, the building was dedicated and, in 1812, it officially opened.
Abraham Lincoln, Ulysses S. Grant and Colonel Elmer Ephraim Ellsworth, the first Union officer to be killed in the Civil War, all laid in state beneath the soaring rotunda dome in the building after their deaths. One of the most important collections of 19th century American portraiture and some notable artifacts are held in the Governor's Room, including George Washington's desk.
City Hall is used for official receptions. In the Blue Room, NYC mayors give press conferences and bill-signing ceremonies take place. The press room is inside Room 9, where reporters file their stories.
The building has been used in various film and television series, including Spin City, City Hall and Ghostbusters, and is featured in the folk song 'The Irish Rover' by The Clancy Brothers, The Pogues and The Dubliners.
The following tours visit New York City Hall:
4/19/2019 - 3/31/2020
Experiencing the thrills of New York City first-hand has never been as easy or exciting as with this 48-hour pass to enjoy over 50 stops throughout the Big Apple from the luxury of a Double Decker Bus.
The following tours go by New York City Hall:

The New York See It All Tour is exactly what it sounds like: an all-encompassing guided tour of New York City.