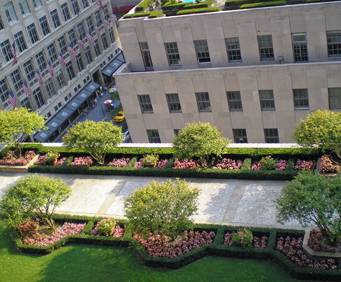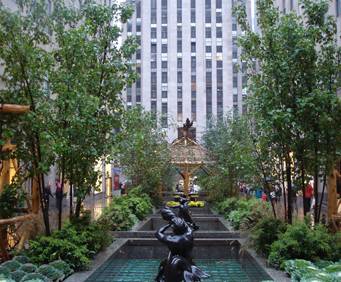 The Channel Gardens in New York City, NY
5th Ave. between 49th and 50th Sts.
Located merely a stone's throw away from one of the most famous landmarks in New York, namely the Rockefeller Center, the Channel Gardens is an verdant oasis of Nature at her most tranquil, tucked away in the midst of the city's typical hustle and bustle.<
Spread over six breathtaking pools, each of which are laced with dainty flower beds, the Gardens are home to several varieties of dogwoods, delphiniums, foxgloves and crabapples. The narrow promenade also welcomes hundreds of visitors all through the day, who stop by for respite from the breathless pace of daily life, or simply to take a break and watch the world go by.
Running in between the stately British Empire Building, and the Maison Françaisle, the gardens don a magical hue during the festive season, where the twinkling lights intersperse with the breathtaking flora to make for an unforgettable experience.
The elaborate floral arrangements that the Channel Gardens are interspersed with, are periodically refreshed in keeping with the changing seasons, so that there's always something new for you to admire, whenever you stop by. While here, don't forget to duck into Teuscher Chocolates, for something delectably Swiss to munch on during your garden sojourn.
Admittance to the gardens are free of cost and visitors are welcomed almost all through the year, expect for the winter months. From a late night stroll after a sumptuous dinner at the Rockefeller Plaza, to a brief getaway from the breakneck pace of modern-day city life, the Channel Gardens make for a great way to momentarily escape the urban mayhem of New York City.