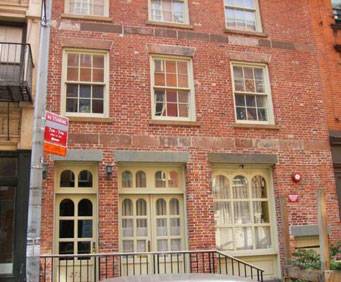 Captain Joseph Rose House in New York City, NY
273 Water Street New York, NY 10038
'The Rat Pit,' Captain Joseph Rose's home, was built in 1773 on 273 Water Street. He built this home before landfill widened the island, and a river ran behind the building. He and his neighbor, William Laight, shared a pier where they docked their brigs. Rose's ship was called the
Industry
and it imported lumber for his Honduras mahogany trade.
Rose and his family moved in 1791 and left the house to his son. In the 19th century, the street level was used commercially, as a cobbler shop, an apothecary and a boardinghouse. The neighborhood had once been lined with merchant class homes; however, at around this time, it had become known as a 'sea of wretchedness and sin.'
In a time span of 70 years, the house faced two fires, one in 1904 and one in 1974. After the first fire, it became used as a warehouse. After the second fire, the city seized the house and it sat empty for two decades until developer Frank J. Sciame, Jr. bought it for $1.00. He then put $1.1 million into the renovation of the building. The house now has four luxury apartments. It is the third oldest structure in Manhattan.