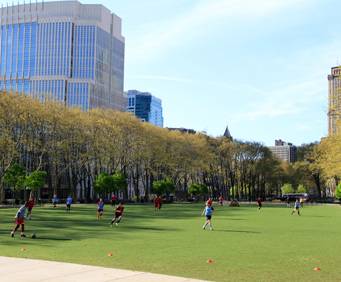 Cadman Plaza Park in New York City, NY
Located at
Brooklyn Heights
and Downtown Brooklyn is the Cadman Plaza Park.
This park has just undergone a renovation of their Central Lawn and serves as a playground for the community of Brooklyn Heights.

The park was named after Reverend Dr. Samuel Parkes Cadman, who was a Brooklyn Congregational minister and radio preacher excellent at public speaking. He was a pastor at the Central Congregational Church for thirty-six years and helped to found the Federated Council of Churches in America.

There is a massive memorial located in the center of the park that was designed in honor of the Brooklynites that served in WWII. This 24-foot tall memorial is one of the largest monuments in NYC. A statue of William Jay Gaynor, mayor of NYC from 1910-13, stands at the northern end of the park.