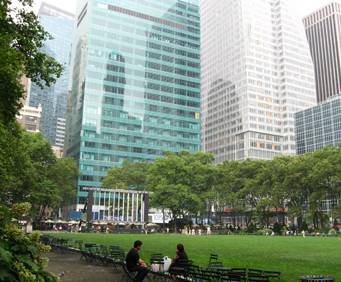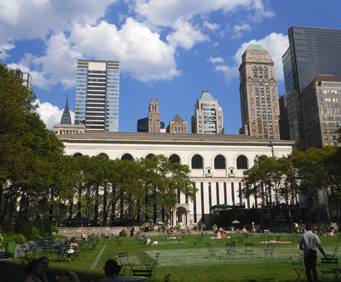 Bryant Park in New York City, NY
Bryant Park is home to hundreds of special free events, programs and activities, as well as year-round services, making it the global model of public spaces.
Bryant Park Corporation, in 1992, completed one of the most dramatic urban public space transformations in the world. The corporation put into place a recreation of the park into a thriving destination for tourists and NYC citizens alike. Over 6 million visitors now travel to the park each year.
The grounds themselves are a sight to see. The park may be filled with lush lawns and beautiful, always-changing flowers, but Bryant is much more than just a garden. It's a place where people to go rest and play. Many historical monuments and urban amenities make up the park as well as the gardens, making it a place of social gatherings as well. The uses of Bryant Park are endless.
The Reading Room is an "open-air library," where people could go to enjoy reading materials back in the Depression Era. Bryant Park has recreated this place, modeling it after the original and adding in custom-designed carts of books, newspapers and more. The park also boasts a carousel; park games like chess, backgammon, pétanque, ping pong and more; an ice skating rink; shops and restaurants; and so much more.