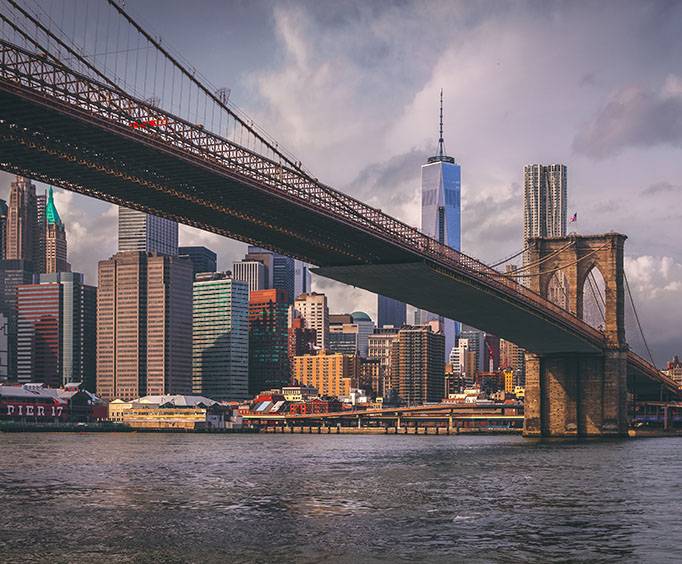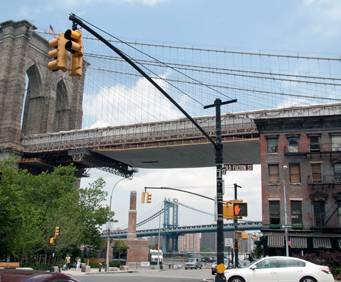 Brooklyn Bridge in New York City, NY
See one of the oldest suspension bridges in the nation in New York City: the Brooklyn Bridge.
The bridge is also on the U.S. National Register of Historic Places and is both an acknowledged NYC Landmark and a U.S. National Historic Landmark. The bridge was completed in 1883 and connects Manhattan and Brooklyn across the East River. Until 1903, it was the longest suspension bridge in the world, at 1,595.5 feet. It was also the first steel-wire suspension bridge.
Though now the bridge carries only cars, pedestrians and bicycles, years ago it would carry both streetcars and elevated trains.
The Brooklyn Bridge is over 125 years old, and has been a piece of historical and cultural significance throughout the years. One of the anchorages was made out of a piece of property from the Osgood House, the first Presidential Mansion. It has also been featured in films such as It Happened in Brooklyn, The Fifth Element, Godzilla, I Am Legend, Oliver & Company, The Dark Knight Rises and more. Read more about the history of this magnificent bridge here.
The following tours visit Brooklyn Bridge:

4/19/2019 - 3/31/2020
Experiencing the thrills of New York City first-hand has never been as easy or exciting as with this 48-hour pass to enjoy over 50 stops throughout the Big Apple from the luxury of a Double Decker Bus.
The following tours go by Brooklyn Bridge: