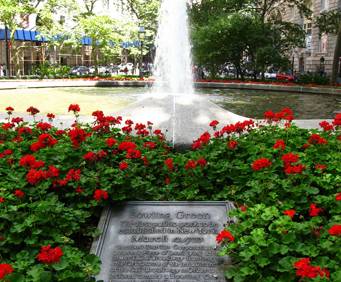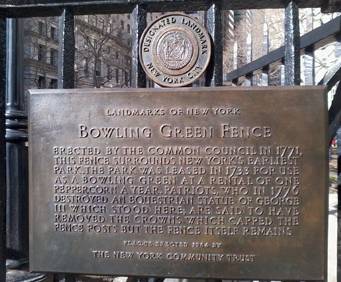 Bowling Green Park in New York City, NY
As New York City's oldest park, Bowling Green has been a Native American council ground and the site of the sale of Manhattan to Peter Minuit in 1626. The park was also used as a trade route for the Dutch, as well as a parade, a meeting place and a cattle market.
Bowling Green was declared a park in 1733. In the late 18th century, it was the center of NY's most fashionable residential area. By mid-century, however, the park was transformed into a more public use. Monuments sprung up in the 19th century, including those of Abraham De Peyster, the first mayor of New York.

The Charging Bull statue was installed in December of 1989. The bronze statue, which stands at three and a half tons, displays power, strength and hope for the future in American people.