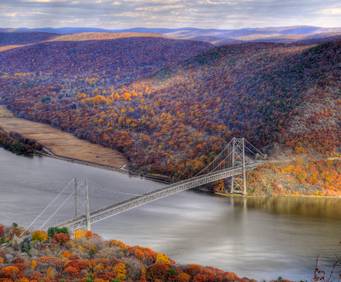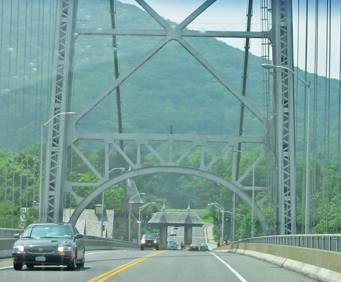 Bear Mountain Bridge in New York City, NY
Bear Mountain Bridge was first opened to the public on November 27, 1942. It was acquired by the New York State Bridge Authority two years prior.
The overall length of the Bear Mountain Bridge spans a total of 2,255 feet from Orange/Rockland county to Westchester/Putnam county. It is a parallel wire cable suspension bridge that is the oldest of the New York State Bridge Authority bridges. It was also the first vehicular river crossing between the cities of NYC and Albany. At the time of its construction, it was the longest suspension bridge in the world and it is also the first suspended bridge to have a concrete deck.
Visitors to the nearby Bear Mountain State Park, which opened in 1916, demanded a replacement for the ferryboats that crossed the river. The growing popularity of the park caused a lack of accommodation by the ferryboats for the people and their automobiles. Therefore, the Bear Mountain Hudson River Bridge Company met and decided a bridge was needed that would be able to take visitors and their cars across the river to the park.
The George Washington Bridge and the Golden Gate Bridge were, in part, an effect of the Bear Mountain Bridge project. The project began a golden age of long span bridge making along the Hudson River and New York metropolitan area.