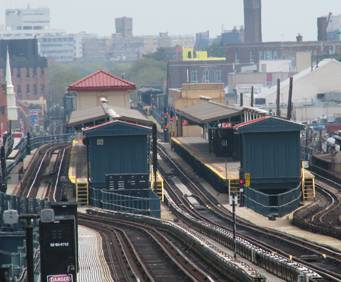 Atlantic Avenue in New York City, NY
Atlantic Avenue Brooklyn, NY 11224
In the boroughs of Brooklyn and Queens, Atlantic Avenue stretches from the Brooklyn waterfront to Jamaica, Queens.
The street separates the Brooklyn Heights and Cobble Hill neighborhoods. It also passes through Boerum Hill, which is near downtown Brooklyn. At this section of the street, the annual street fair Atlantic Antic occurs, which brings local and visiting merchants and artists together during the month of October.

In the Atlantic Avenue area, the population is widely Middle Eastern.

The Atlantic Avenue Railroad was once a popular means of travel. Streetcars pulled by horses would run along the street. Electrification would eliminate other traffic from the roadway. Remnants of the roadway extend as far east as Carle Place.
Events at Atlantic Avenue