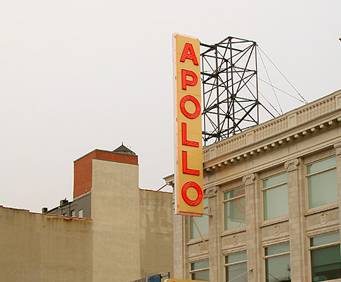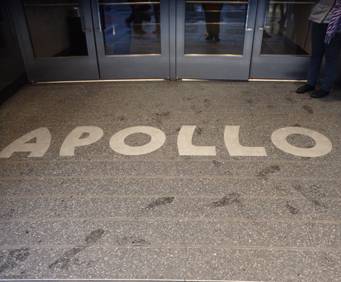 Apollo Theater in New York City, NY
253 W 125th St New York, NY 10027
The following tours visit Apollo Theater:
5/23/2019 - 3/31/2020
Experiencing the thrills of New York City first-hand has never been as easy or exciting as with this 48-hour pass to enjoy over 50 stops throughout the Big Apple from the luxury of a Double Decker Bus.

Learn about Harlem's rich history and enjoy a delicious dinner of soul food at a local Harlem restaurant, then dine out for drinks while you experience jazz played the way it was meant to be at one of Harlem's local Jazz clubs all in this 5 hour tour.





The following tours go by Apollo Theater:

5/26/2019 - 3/29/2020
You'll learn all about Harlem on the 4 hour Harlem on Sunday Tour and Gospel Service where you will view sights like The Cotton Club, Strivers Row, Sylvan Terrace, Sugar Hill, and more before joining a Harlem Gospel Service.

Enjoy a spiritually uplifting experience with the Harlem Gospel on Wednesday Experience.





The Apollo Theater in New York City hosts various events throughout the year, including amateur nights.
The Apollo Theater Foundation, Inc. is a nonprofit organization that was established in 1991. It is dedicated to preserving and developing the legendary Apollo Theater by hosting a variety of world-class live performances and education programs. These programs honor the influence of African American artists and help emerging voices advance in the media.

The theater hopes to reach a worldwide audience. The historic landmark is a symbol of pride in the American artistic accomplishment. It is considered the stronghold of African American culture and achievement.

The Apollo Theater received both state and city landmark recognition in 1983. It opened in 1914 as the Hurtig and Seamon's New Burlesque Theater. At this time, African Americans were not allowed to attend the shows or perform in them. When the campaign against burlesque started in NYC, the theater was one of many that shut down. It was reopened for a brief stint in 1978-1979. When the Apollo Theater Foundation was founded, the theater was able to start performing concerts and hosting education and community programs again.