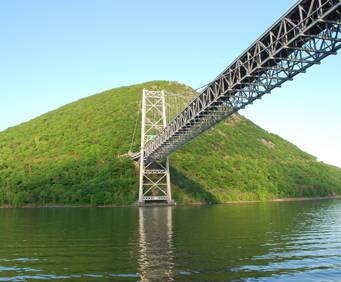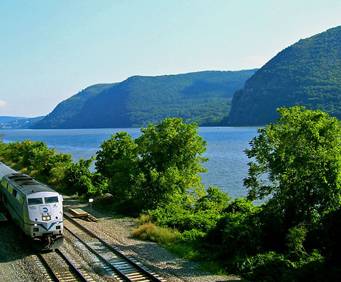 Anthony's Nose in the Hudson Highlands near New York City, NY
Anthony's Nose is a peak along the
Hudson River
at the north end of Westchester County, New York.
The peak has been known as Anthony's Nose since at least 1697, when the name appears on a grant patent. The eponymous Anthony may be St Anthony, as a rock formation called "Saint Anthony's Face" existed on Breakneck Ridge nearby before its destruction by quarrying.
Pierre Van Cortlandt, who owned this mountain, said it was named for a pre-Revolutionary War sea captain, Anthony Hogan. This captain was reputed to have a Cyrano de Bergerac type nose. One of his mates, looking at this mount, as they sailed by it, compared it to that of the captain's nose. He said that they looked similar in size. This good-natured joke soon spread, and the name Anthony's Nose stuck to this peak. Washington Irving's History of New York, a satire, attributes the name to one Antony Van Corlear, who was the trumpeter on Henry Hudson's ship.
Other traditions name Anthony de Hooges, a deacon of the Dutch Reformed Church and early settler of Rensselaerswyck, as the source of "Anthony's Nose" – supposedly after de Hooges' own prominent nose.
One of the Hudson River Chains was stretched from Fort Montgomery to the foot of the mountain. The Bear Mountain Bridge was later constructed along approximately that alignment. An airway beacon was once located on the summit.