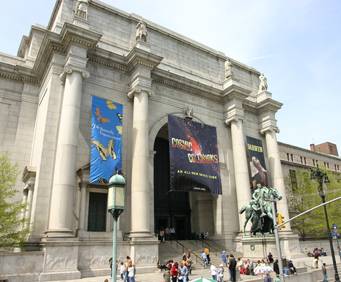 American Museum of Natural History in New York City, NY
Central Park W & 79th St New York, NY 10024
The American Museum of Natural History, one of the great scientific and cultural institutions in the world, was founded in 1869 and has advanced, since then, with its global mission to discover, interpret and distribute information about human cultures, the natural world and the universe.
The museum is well-known for its different exhibits and collections, all that serve as a guide to the planet and represent the world's cultures. Certain exhibits include Creatures of Light, Beyond Planet Earth: The Future of Space Exploration, Journey to the Stars, The Butterfly Conservatory and Spiders Alive! There is also an IMAX theater that shows immersing films, like "Flying Monsters," a film by National Geographic.

The museum underwent renovation in 2009, repairing and cleaning the masonry along the 700-foot-long south side and the complete reconstruction of the 42-foot-wide arch of the porte-cochere.
The following activities include admission to American Museum of Natural History:
The following tours visit American Museum of Natural History:
4/18/2019 - 3/31/2020
Experiencing the thrills of New York City first-hand has never been as easy or exciting as with this 48-hour pass to enjoy over 50 stops throughout the Big Apple from the luxury of a Double Decker Bus.
Events at American Museum of Natural History