Shearwater Classic Schooner Sailing Cruises

Description
Shearwater Classic Schooner Sailing Cruises Photos (11)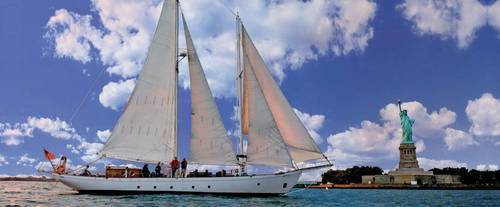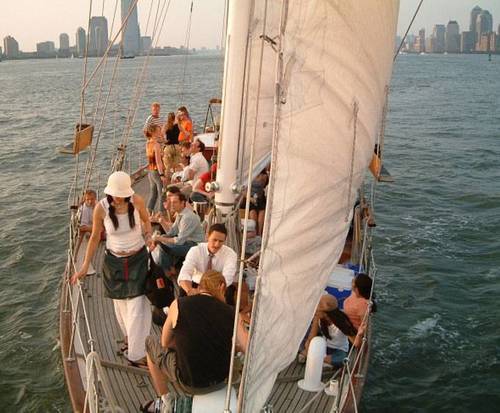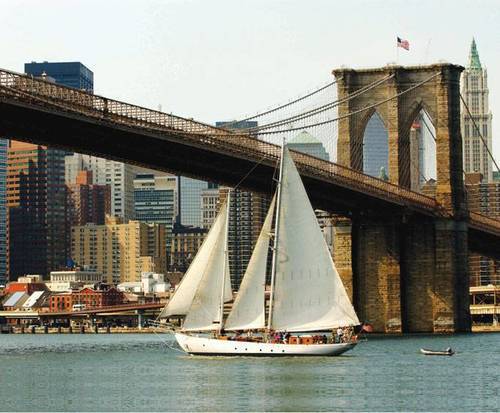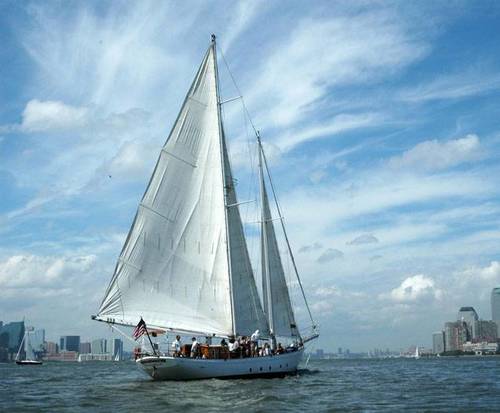 Choose a real adventure with one of Manhattan by Sail's signature schooner rides aboard the regal Shearwater, a classic Newport-style schooner yacht!
Designated a floating landmark of New York City, the Shearwater was hand-built in 1929 from native white oak and has been sailing around the Manhattan waterways since 2001. She was the last boat to be constructed at the old Tide Mill, and during her construction, about 40 workers were employed. Designed by naval architect and marine engineer Theodore Donald Wells, the Shearwater was gracefully and elegantly launched on May 4, 1929.
In the years after being launched, the Shearwater has had a colorful history and has been carefully maintained and restored, confirming it as a true piece of American maritime history. In 1942, the ship was requisitioned by the War Shipping Administration to become a member of the U.S. Coast Guard's Coastal Picket Patrol during World War II and became a true veteran world cruiser. She transited the Panama Canal in 1946, and in the late '70s and early '80s, she completed a 2.5-year global circumnavigation.
In 1971, Mrs. John B. Thayer of Rosemont, wife of a former trustee and treasurer, donated the Shearwater to the University of Pennsylvania's Institute of Environmental Medicine, where she was used as a laboratory for research on physiological responses to the stresses of living and working underwater. She has also competed in many ancient mariner and classic yacht races and was last raced by the current owners in San Diego in May 1995 in the American Schooner Cup, in which she finished second place.
As a member of the yacht charter industry since 1966, the Shearwater has been known as the "Queen of the Fleet," and today, she continues that tradition with the most unique sailing experience in New York City. The ship is a prime example of a classic schooner from the bygone era and reaches an impressive length of 82 feet. She has passed rigid Coast Guard inspections and can carry up to 48 passengers.
Since 2001, Manhattan by Sail has been happy to offer cruises aboard the Shearwater, including sightseeing, wine tasting, and sunset cruises for your pleasure. Each option offers an amazing way to experience the beautiful city, and different options are available for accommodating families, couples, and single passengers.
Shearwater Classic Schooner City Lights Tour
When you take the City Lights Tour, you can enjoy 90 minutes of the world's most famous skyline as it lights up the night. Watch as the hustle and bustle of the city turns into silence as the ship slips out onto the Hudson River for a tranquil cruise with the sails unfurled.
Shearwater Classic Schooner Champagne Brunch Sails
Enjoy a classic New York brunch with a twist on this two-hour Champagne Brunch Sail. Have your fill of tea and coffee, as well as an open Champagne bar, along with a buffet-style brunch menu with a spread of assorted muffins, croissants, bagels, salmon, and assorted fruits and cheeses. Soft drinks are included with your meal, but beer, wine, and cocktails are an additional charge.
Shearwater Classic Schooner Wine Tasting Sails
On this two-hour Wine Tasting Sail, you will set sail with wine experts from Montesquieu for a fun, casual, and informative cruise. Enjoy a delightful harbor adventure as you taste great wines with cheese and charcuterie from Stinky Brooklyn. The wines of Montesquieu cellars are rich with hidden gems, providing you with tastes from boutique, family-owned, and organically farmed vineyards.
Shearwater Classic Schooner Sunset Sail
Take the Shearwater's Sunset Sail for an evening among the starts. Watch night fall on the city and enjoy views from the unbeatable vantage point of the harbor. This two-hour cruise around the Statue of Liberty is the perfect way to start up your evening.
Shearwater Classic Schooner Happy Hour Sail
Enjoy half-price drink specials on the Happy Hour Sail. This cruise is the perfect start to your weekend or a great post-work party. All drinks are half off on this hour-long cruise!
Shearwater Classic Schooner Whiskey Tasting Sails
On this 1.5-hour Whiskey Tasting Sail, you can taste the goods of New York's whiskey distillers. Each sail includes a tasting on one micro-distilled, one small-bath, and one mass-produced whiskey, as well as three truffles from ChocAlive!, two tailored whiskey cocktails, and fascinating expert information about the distilling process, the flavors within the whiskey, and the history and story of New York City's alcoholic past as presented by the booze experts from Urban Oyster. A different style of whiskey is highlighted each month.