Gondola Tours in New York, NY
Experience the Big Apple in a unique way with one of the gondola tours offered in the area. You are sure to have a fantastic time, so do not miss out.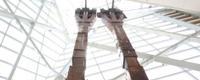 Located beneath the 9/11 Memorial at the site of the original Twin Towers in Lower Manhattan, the 9/11 Memorial Museum examines the implications of the terrorist attacks and documents the lasting impact of those events.
Apr 22
9:00 AM
9:30 AM
10:00 AM
10:30 AM
11:00 AM
11:30 AM
12:00 PM
12:30 PM
1:00 PM
1:30 PM
2:00 PM
2:30 PM
3:00 PM
3:30 PM
4:00 PM
4:30 PM
5:00 PM
5:30 PM
6:00 PM
6:30 PM
7:00 PM
Apr 23
9:00 AM
9:30 AM
10:00 AM
10:30 AM
11:00 AM
11:30 AM
12:00 PM
12:30 PM
1:00 PM
1:30 PM
2:00 PM
2:30 PM
3:00 PM
3:30 PM
4:00 PM
4:30 PM
5:00 PM
5:30 PM
6:00 PM
Apr 24
9:00 AM
9:30 AM
10:00 AM
10:30 AM
11:00 AM
11:30 AM
12:00 PM
12:30 PM
1:00 PM
1:30 PM
2:00 PM
2:30 PM
3:00 PM
3:30 PM
4:00 PM
4:30 PM
Apr 25
9:00 AM
9:30 AM
10:00 AM
10:30 AM
11:00 AM
11:30 AM
12:00 PM
12:30 PM
1:00 PM
1:30 PM
2:00 PM
2:30 PM
3:00 PM
3:30 PM
4:00 PM
4:30 PM
5:00 PM
5:30 PM
6:00 PM
6:30 PM
7:00 PM
Apr 26
9:00 AM
9:30 AM
10:00 AM
10:30 AM
11:00 AM
11:30 AM
12:00 PM
12:30 PM
1:00 PM
1:30 PM
2:00 PM
2:30 PM
3:00 PM
3:30 PM
4:00 PM
4:30 PM
5:00 PM
5:30 PM
6:00 PM
6:30 PM
7:00 PM
Apr 27
9:00 AM
9:30 AM
10:00 AM
10:30 AM
11:00 AM
11:30 AM
12:00 PM
12:30 PM
1:00 PM
1:30 PM
2:00 PM
2:30 PM
3:00 PM
3:30 PM
4:00 PM
4:30 PM
5:00 PM
5:30 PM
6:00 PM
6:30 PM
7:00 PM
Apr 28
9:00 AM
9:30 AM
10:00 AM
10:30 AM
11:00 AM
11:30 AM
12:00 PM
12:30 PM
1:00 PM
1:30 PM
2:00 PM
2:30 PM
3:00 PM
3:30 PM
4:00 PM
4:30 PM
5:00 PM
5:30 PM
6:00 PM
6:30 PM
7:00 PM
Apr 29
9:00 AM
9:30 AM
10:00 AM
10:30 AM
11:00 AM
11:30 AM
12:00 PM
12:30 PM
1:00 PM
1:30 PM
2:00 PM
2:30 PM
3:00 PM
3:30 PM
4:00 PM
4:30 PM
5:00 PM
5:30 PM
6:00 PM
6:30 PM
7:00 PM
>