New Orleans, LA 4 Star Hotels
View all 16 4 Star Hotels
During your vacation, enjoy the leisure and luxury comfort of a 4 Star Hotel for your accommodation. By choosing any of these 4 Star Hotels, you can be sure that you will rest in comfort during your stay after you have visited all the things to do in New Orleans. Conveniently make your lodging reservations online today!

New Orleans, LA 4 Star Hotels
Rating:





Enjoy first-class accommodations on your visit to New Orleans, Louisiana when you stay at the fabulous Omni Royal Crescent Hotel! With amenities such as a state of the art 24-hour fitness center, free wi-fi, free parking including valet, rooftop sun deck, and an outdoor hot tub! This luxurious hotel is located within minutes of some of New Orleans finest attractions such as the Oak Alley Plantation, the Audubon Insectarium and the Audubon Aquarium of the Americas. All guest rooms have been recently renovated, are non-smoking and include climate control thermostats, coffee maker, iron and ironing board, in-room safe and cable television with the option for Pay Per View.
Rating:





Swim in the outdoor pool in season at the Hilton New Orleans Riverside or workout in the fitness center. Play basketball, tennis or racquetball to keep in shape. Dine at Le Croissant for breakfast, The Marketplace, or Rivers Blend Cafe. Try Drago's Seafood for lunch or dinner with gumbo, fried seafood, lobster, shrimp, oysters, and Cajun entrees. There is a business center for business travelers, and laundry service. Located nearby are retail shops, Aquarium of the Americas, National World War II, casinos, theater, and museums.
Rating:





The West French Quarter Hotel is located on Rue Charles Street in New Orleans Louisiana. This boutique hotel is decorated with a modern theme and they service that you will receive here from the staff is first-class. As a guest here you can enjoy paid Wi-Fi, paid valet parking and a sparkling outdoor pool. There is an onsite restaurant for you to get a hot breakfast or a great dinner. You can feel free to bring your dogs along with you on this trip because this hotel is pet friendly. It's also handicap accessible for all of your special needs guest.
Rating:





Hyatt Regency has the perfect location for your vacation it is near to a lot of historic places like the French Quarter, Arts District, Champions Square and so much more. Hyatt Regency in New Orleans, Louisiana is a 4 Star Hotel with contemporary almost luxurious rooms with the best amenities like pool, coffee shop, restaurant, gift shop and great customer service 24/7 every day. Make your reservation now and enjoy your vacation at this amazing hotel, the one and only Hyatt Regency in New Orleans.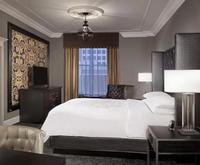 Rating:





If you are looking for a four0star hotel to stay in Le Pavillion Hotel is one of the best choices. It meets all the requirements and facilities that a four-star hotel must require. The Le Pavillion Hotel provides excellent beds to its guests with high-quality linen that will make sure you will have a peaceful and quality sleep during your stay here. We also provide you the best facilities in the bathrooms which will make your experience here more pleasant. Our dining services are very renowned in the area and we offer a variety of cuisines for our guests also.
Hilton is considered one of the most exclusive Hotels all over the United States and if you happen to be in New Orleans this is the place where you would like to stay. Hilton New Orleans is a 4 Star Hotel located at St. Charles Avenue a very well known street, this Hotel has it all exclusive room, delicious meals, pool and so much more to make your vacation more enjoyable. Hilton New Orleans makes sure you enjoy your vacation and being a 4 Star Hotel says it all.
View all 16 4 Star Hotels