Swamp Tour Drive Out

Description
Swamp Tour Drive Out Photos (12)
Take this educational journey back to the early days of the Louisiana bayou and swamp explorations for an exciting adventure through the historical Manchac Swamp!
For many years, people have traveled extensively to locate a unique and exciting adventure exploring Louisiana's back country with its meandering bayous and swamps that you can only experience in the historical Manchac Swamp. Be wowed by the swamp creatures as they peak out from the underbrush and between moss-drapped trees and shrugs. The animals, seeing the boats daily, recognize them as part of their normal environment, and unafraid and responsive to their boat captain's call, they frequently come directly to the boat.
Detailed Tour Itinerary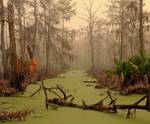 Tour Stop at
Tour Stop at
Manchac Swamp
As your boat drifts through the waterways, you will learn about the Louisiana Wetlands and the inhabitants of the swamp, particularly the life and habits of the American alligator, as well as the unique history of the Cajun town of Frenier that lies within the Manchac Swamp.
Stops may change due to traffic, weather, maintenance, etc.
In the safety and comfort of the boat, you can actually come within a few feet of jumping alligators and other fantastic swamp creatures! Book today for this wonderful New Orleans vacation deal and have a exciting day in the Bayou.