New Orleans, LA Swamp Tours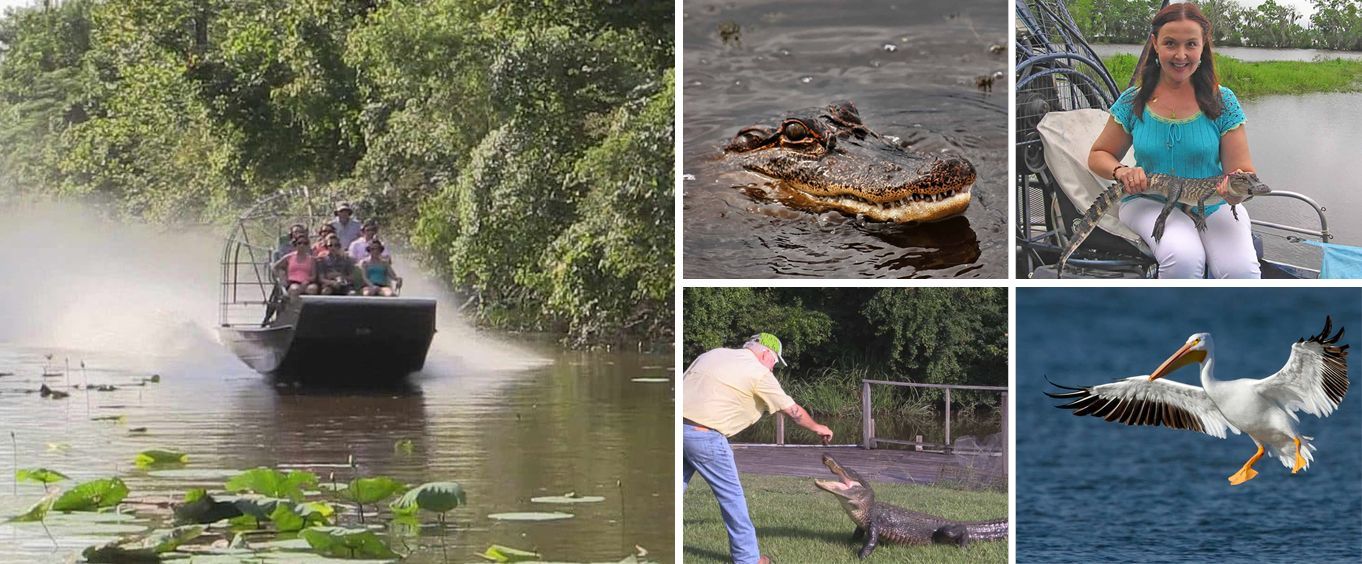 Explore the legendary Cajun Bayou like never before in this Airboat Swamp tour that is ideal for kids six and older. The tour includes pickup from your hotel on a comfortable tour bus that would take you through the scenic streets of the scenic Cajun Country. Once at the destination you will board a boat on a guided tour that will be alternating in speed from fast to slow, giving you a chance to see all the amazing scenery along with having a heart-pounding experience as well. Find out more about the history of the bayou along with those who have lived there over the years and those different forms of animal life that call it home, while taking in the wonder of nature.
Available 345 days between Now & Dec 31
When planning a trip to New Orleans, it won't be complete without a tour of the swamp/wetlands. Book a trip with the Swamp and Bayou Tour and hop aboard a motorcoach that will take visitors across the Mississippi River through the Jean Lafitte National Historical Park. Then jump aboard a swamp boat where a knowledgeable guide will take guests on a narrated tour of the area swamps and wetlands educating them about the area's history, wildlife and wetland preservation. For those who get hungry or thirsty, refreshments are available on the boat. Along the way, visitors may catch a glimpse of the natural wildlife including birds, nutria, alligators, egrets and snakes that call this area home so be sure to bring a camera. Book your swamp tour today!
Available 306 days between Mar 1 & Dec 31
Mar 01
8:45 AM
10:45 AM
12:45 PM
2:45 PM
Mar 02
8:45 AM
10:45 AM
12:45 PM
2:45 PM
Mar 03
8:45 AM
10:45 AM
12:45 PM
2:45 PM
Mar 04
8:45 AM
10:45 AM
12:45 PM
2:45 PM
Mar 05
8:45 AM
10:45 AM
12:45 PM
2:45 PM
Mar 06
8:45 AM
10:45 AM
12:45 PM
2:45 PM
Mar 07
8:45 AM
10:45 AM
12:45 PM
2:45 PM
Mar 08
8:45 AM
10:45 AM
12:45 PM
2:45 PM
Mar 09
8:45 AM
10:45 AM
12:45 PM
2:45 PM
Mar 10
8:45 AM
10:45 AM
12:45 PM
2:45 PM
Mar 11
8:45 AM
10:45 AM
12:45 PM
2:45 PM
Mar 12
8:45 AM
10:45 AM
12:45 PM
2:45 PM
Mar 13
8:45 AM
10:45 AM
12:45 PM
2:45 PM
Mar 14
8:45 AM
10:45 AM
12:45 PM
2:45 PM
Mar 15
8:45 AM
10:45 AM
12:45 PM
2:45 PM
Mar 16
8:45 AM
10:45 AM
12:45 PM
2:45 PM
Mar 17
8:45 AM
10:45 AM
12:45 PM
2:45 PM
Mar 18
8:45 AM
10:45 AM
12:45 PM
2:45 PM
Mar 19
8:45 AM
10:45 AM
12:45 PM
2:45 PM
Mar 20
8:45 AM
10:45 AM
12:45 PM
2:45 PM
>
Do you enjoy nature and Gators? New Orleans, Louisiana has the perfect swamp tour to admire the beautiful bayou environment called the Cajun Pride Swamp Boat. The interesting thing about this place and ride is that this is a nature conservancy which means that it is a protected environment where you can enjoy the view all the wild species without having a negative impact on the environment. This activity is available for all ages, tickets can be bought online and are worth every penny. Cajun Pride Swamp Boat is the best option activity during your trip to New Orleans, Louisiana
Available 345 days between Now & Dec 31
Jan 22
9:30 AM
12:00 PM
2:15 PM
Jan 23
9:30 AM
12:00 PM
2:15 PM
Jan 24
9:30 AM
12:00 PM
2:15 PM
Jan 25
9:30 AM
12:00 PM
2:15 PM
Jan 26
9:30 AM
12:00 PM
2:15 PM
Jan 27
9:30 AM
12:00 PM
2:15 PM
Jan 28
9:30 AM
12:00 PM
2:15 PM
Jan 29
9:30 AM
12:00 PM
2:15 PM
Jan 30
9:30 AM
12:00 PM
2:15 PM
Jan 31
9:30 AM
12:00 PM
2:15 PM
Feb 01
9:30 AM
12:00 PM
2:15 PM
Feb 02
9:30 AM
12:00 PM
2:15 PM
Feb 03
9:30 AM
12:00 PM
2:15 PM
Feb 04
9:30 AM
12:00 PM
2:15 PM
Feb 05
9:30 AM
12:00 PM
2:15 PM
Feb 06
9:30 AM
12:00 PM
2:15 PM
Feb 07
9:30 AM
12:00 PM
2:15 PM
Feb 08
9:30 AM
12:00 PM
2:15 PM
Feb 09
9:30 AM
12:00 PM
2:15 PM
Feb 10
9:30 AM
12:00 PM
2:15 PM
>

By Date: