New Orleans, LA Restaurants

You will savor every point of contact between your lips, tongue, jaws, teeth, gums and palate and the delectable dishes you will meet at the New Orleans HRC, Hard Rock Cafe Restaurants were founded in 1971 by two Americans in London and feature their signature recipes such as Twisted Mac and Smokehouse Hickory Chicken.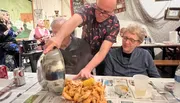 Restaurants don't come better than Mister Gregory's Famous Shrimp Boil and a Show in New Orleans. This lively activity is perfect for seafood lovers who want to experience the culture, history, and cuisine of the city. A professional chef prepares steaming hot plates of succulent shrimp, sausage, and corn while providing commentary on the ingredients and cooking process. Revellers can then sit back and enjoy live jazz music, storytelling, and audience participation games, making for a memorable and interactive evening.
<
Oct 01
N/A
Oct 02
N/A
Oct 03
N/A
Oct 04
N/A
Oct 06
N/A
Oct 08
N/A
Oct 09
N/A
Oct 10
N/A
Oct 11
N/A
Oct 15
N/A
Oct 16
N/A
Oct 17
N/A
Oct 18
N/A
>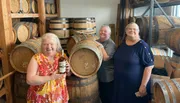 Restaurants aren't the only things to enjoy in New Orleans. Take a unique tour of the Old New Orleans Rum Distillery and discover the history behind their traditional rum-making process. You'll be met with friendly staff who will guide you through the process and offer a chance for you to sample the rum. Not only will you get a taste of the best rum New Orleans has to offer, but you'll also receive a bottle to take home with you.
<
Sep 29
12:30 PM
1:30 PM
2:30 PM
3:30 PM
4:30 PM
Sep 30
1:30 PM
2:30 PM
3:30 PM
4:30 PM
Oct 01
N/A
Oct 02
12:30 PM
1:30 PM
2:30 PM
3:30 PM
4:30 PM
Oct 03
N/A
Oct 04
N/A
Oct 05
12:30 PM
1:30 PM
2:30 PM
3:30 PM
4:30 PM
Oct 06
12:30 PM
1:30 PM
2:30 PM
3:30 PM
4:30 PM
Oct 07
1:30 PM
2:30 PM
3:30 PM
4:30 PM
Oct 08
N/A
Oct 09
12:30 PM
1:30 PM
2:30 PM
3:30 PM
4:30 PM
Oct 10
N/A
Oct 11
N/A
Oct 12
12:30 PM
1:30 PM
2:30 PM
3:30 PM
4:30 PM
Oct 13
12:30 PM
1:30 PM
2:30 PM
3:30 PM
4:30 PM
Oct 14
1:30 PM
2:30 PM
3:30 PM
4:30 PM
Oct 15
N/A
Oct 16
12:30 PM
1:30 PM
2:30 PM
3:30 PM
4:30 PM
Oct 17
N/A
Oct 18
N/A
>