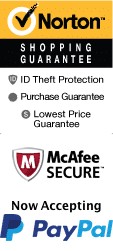 New Orleans Ghosts and Spirits Walking Tour
400 Toulouse St , Woldenberg Park New Orleans, Louisiana 70130
1-866-267-5732
Chat Now

Duration: 2 hours

Guided Tour Takes Approximately 2 Hours

Appropriate for All Ages

Handicap Accessible

Cameras are Permitted

Schedule
Explore a city that has been called one of the most haunted in the country. From hotels to businesses, there have been sightings and strange sounds that have been reported by customers, employees, and tourists. On the New Orleans Ghosts and Spirits Walking Tour, guests will travel to some of the most haunted locations with a guide who offers details about the reasons behind the hauntings, such as murders and suicides.
Once the tour is over, guests can judge for themselves whether New Orleans is haunted or not. Equipment is used to listen for sounds in the locations visited and to view hot and cold spots in some of the locations. These are ways that people often determine whether there is paranormal activity present or not. There are several traditions that have taken place over recent decades in New Orleans that have resulted in deaths and mysterious disappearances. These incidents have led to hauntings across the town. Some of the sites that are included on the tour have been featured on television documentaries. There are stories about a woman singing in the rain in the French Quarter and shadow figures at the Bourbon Orleans Hotel.
From images that can't be explained to sounds that only certain people hear, New Orleans features numerous haunted locations. The Ghosts and Spirits Walking Tour takes guests to some of the most well-known areas to try to get a glimpse of the sightings reported. Departure times vary, but most tours take place in the evening hours.

New Orleans has been referred to as "The most haunted city in America." After this tour, we'll let you be the judge!
With its colorful history and unique traditions, it is no wonder so many New Orleans homes and taverns have been investigated by paranormal investigators.
You'll visit several haunted sites and hear about the stories featured on The History Channel and The Discovery Channel.
When it rains in the French Quarter, the locals swear a beautiful voice floats out of the mist. After you hear the story of Pere' Dagobert vs. "Bloody" O'Reilly and the "singing rain," you might hear it too.
Will you see any of the ghosts that inhabit the famous Bourbon Orleans Hotel - formerly a theater, ballroom, orphanage and convent? The staff and guests report regular sightings of uninvited guests!
There's no guarantee you will see a ghost, but you'll see where you're most likely to meet one! Bring your camera. You never know who will want to pose for a picture!
Book Now!