Bus Service in New Orleans, LA
Enjoy some great adventuring in New Orleans, LA with one of the bus service attractions offered in the area.
Bus Services will take you to the Whitney Plantation Tour, a must-visit highlight for anyone visiting New Orleans, LA. This unique tour offers an immersive and educational experience exploring the history and legacy of slavery in the United States through the lens of the Whitney Plantation, which operated from the early 1800s until the Civil War. The tour includes access to restored slave cabins, memorials, and exhibits, as well as knowledgeable guides who provide context and insight into this troubling chapter of American history. This tour is a fascinating way to learn about the history of NOLA and the US, making it the perfect event for history buffs and those who want to gain a new perspective.
<
Oct 03
N/A
Oct 10
N/A
Oct 17
N/A
>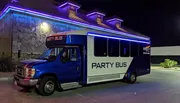 Bus Services on the New Orleans Party Bus Happy Hour tour takes you on a unique journey through the city's bustling streets, while enjoying cocktails and live music. Step aboard the party bus and receive a welcome drink, before setting off to discover some of New Orleans' famous landmarks. As the sun sets, you'll stop at bars in the vibrant French Quarter, where you can sip drinks and mingle with locals. The guided tour makes for an unforgettable evening that's perfect for a group of friends.