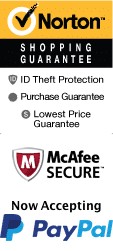 Ghost, History, Murder and Mystery Combo Walking Tour
434 Chartres St New Orleans, Louisiana 70130
1-866-267-5732
Chat Now
Are you ready for a thrilling and spine-chilling combo tour through the dark and eerie streets of New Orleans? Join the Ghost, History, Murder and Mystery Combo Walking Tour and discover a side of the city that is often hidden in the shadows. Explore the French Quarter and its infamous landmarks, hear tales of ghostly apparitions, voodoo rituals, unsolved murders, and discover the dark secrets of one of the most haunted cities in the United States.

Led by expert guides who know every inch of the city and its history, this tour will take you to the heart of New Orleans' most mystifying stories. Expect to walk about 2 miles, so wear comfortable shoes and, if you can, bring a flashlight. Along the way, you will see some of the most iconic sights in the city, such as the LaLaurie Mansion, famous for its gruesome past and rumored hauntings by the ghosts of former slaves.

As you make your way through the historic streets, you will hear stories of unsolved mysteries, dark legends, and gruesome murders that still haunt the French Quarter after so many years. Bring your courage as you enter the dark alleys of the city, where the shadows seem to hide secrets that only the bravest can uncover.

This tour is not for the faint of heart, but for those who dare to discover the hidden history of one of the most mysterious cities in the world. If you love ghost stories and true crime, then you won't want to miss this combo tour that combines both in one thrilling experience.

In conclusion, if you're looking for a unique and unforgettable experience, the Ghost, History, Murder and Mystery Combo Walking Tour is the perfect choice for you. Step into the shadows and discover the dark side of New Orleans that few have dared to explore. Book your tour now and get ready for a night of spooky and exciting adventures you'll never forget!
Book Now!