Cemetery & Voodoo Walking Tour

400 Toulouse Street New Orleans, LA 70130
1-800-987-9852
Description
Cemetery & Voodoo Walking Tour Photos (11)
If you're looking for an exciting adventure while on a weekend getaway then this New Orlean Tour will bring a great cultural experience to your vacation. Welcome to the 200-year-old St Louis Cemetery No 1, a legendary New Orleans cemetery known as the "City of the Dead" that serves as the burial place of notable New Orleans residents like Voodoo Queen Marie Laveau.
Along the tour, you'll learn about the legend of Laveau that surrounds her and her tomb, as well as the stories of other infamous residents buried here. The guide will explain the above-ground burial system in New Orleans and tombs of the different "Societies." You'll also be verbally progressed through the evolution of Voodoo, which is still practiced today, and how it has influenced Crescent City. At the end of the tour, you'll receive your very own "gris gris" bag as well as find out just exactly what "gris gris" is. To make sure you get the most out of your tour, excursions are limited to 22 passengers per tour guide. Vacation to New Orleans today and make it an unforgettable experience.
Detailed Tour Itinerary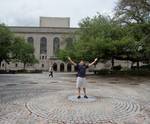 Drive By
Drive By
Congo Square in New Orleans, LA
In the southern corner of Armstrong Park is Congo Square, an open space where slaves and free blacks gathered throughout the 19th century for meetings, open markets, and the African dance and drumming celebrations that played a substantial role in the development of jazz.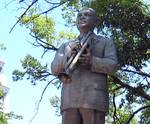 Drive By
Drive By
Louis Armstrong Park in New Orleans, LA
Louis Armstrong Park, formerly known as Beauregard Square, is a 32-acre park located in the Tremé neighborhood of New Orleans, Louisiana, just across Rampart Street from the French Quarter. The park contains the New Orleans Municipal Auditorium, the Mahalia Jackson Theater of the Performing Arts, Congo Square, and part of the New Orleans Jazz National Historical Park.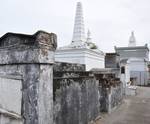 Tour Stop at
Tour Stop at
St. Louis Cemetery No. 1
St. Louis Cemetery No. 1 opened in 1789 and is the oldest cemetery in New Orleans. It was created established outside the city limits since people believed that the presence of dead bodies in the city center caused diseases to spread. The most famous is probably Voodoo queen Marie Laveau, whose tomb is often desecrated by people who mark a cross on her grave, supposedly this will make her spirit grant a wish.
Stops may change due to traffic, weather, maintenance, etc.
Reviews
3.7 | 3 reviews
Cecilia Vega
Redondo Beach, CA
✓
Verified Traveler
The cemetery was very interesting, lots of info and stories as well. Would be really cool and special if it included another cemetery as well, (it would help to divide up the tour groups that all seem to arrive at 10am, gets a little crowded). Great tour guide, michael same gentleman as the ghost and spirit tour. Only disappointment was not a lot of gris gris on tour, no gris gris bag as advertised on website, not a lot of info except marie laveau and her tumb.
Geneva Garrett
Santa Anna, TX
✓
Verified Traveler
"We enjoyed this tour."
We enjoyed this tour.
Bob Patterson
Middlebury, VT
✓
Verified Traveler
Interesting, but i thought there would be more variety in the tombs.
Book Now!