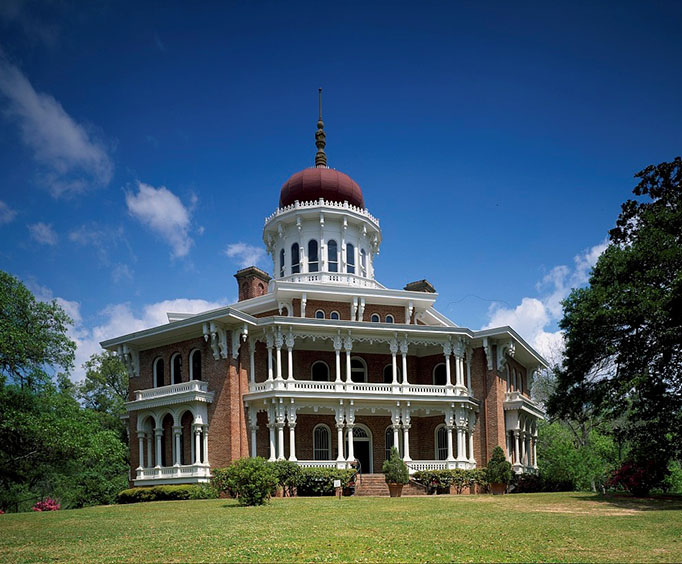 Longwood in Natchez, MS
140 Lower Woodville Rd Natchez, MS 39120
Sitting on Lower Woodville Road in Natchez, Mississippi is Longwood.
This antebellum style mansion was built back in the 19th century and is on both the U.S. National Register of Historic Places and has been recognized as a National Historic Landmark.
Built in 1859 by a Philadelphia architect for cotton planter Dr. Haller Nutt, Longwood holds the honor of being the largest octagonal house in America. Work began in 1859 and was stopped in 1861 because the Civil War broke out. In 1864, Dr. Nutt died from pneumonia and the mansion was left unfinished. Out of the 32 rooms planned for the mansion, only nine of the basement floor rooms were finished. This house is the last ray of light from a time when cotton barons' wealth was endless and mansions and opulence dominated the style. After the war, cotton barons saw an end to their reign.
The lower floor was occupied by Nutt's wife Julia after his death and it now remains largely just as she left it. The upper floors are simply an architectural wonder displaying the amazing skill, talent, and craftsmanship found in a bygone era, but simply stopped by time as the workers simply dropped their toosl and left the building unfinished.
There are tours of this home available every thirty minutes during weekdays allowing visitors to step back in time and view the grandeur style the South enjoyed turning the days of the booming cotton era. This home is the ideal symbol of the rise and fall of the South before and immediately following the Civil War.

NATCHEZ MS
HOTELS & VACATION PACKAGES
MOST POPULAR THINGS TO DO
IN NATCHEZ MISSISSIPPI