Nashville, TN Hotels with Indoor Pool
View all 28 Hotels with Indoor Pool
Nashville, TN Hotels with Indoor Pool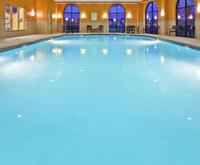 Exclusive Online Offer: Save up to 10%
Click for More Information


Rating:





Customer Rating:





Very enjoyable stay. Staff was friendly and helpful. Rooms were clean and comfortable.
Joseph Harrold
East Providence, RI
The Best Hotel to Stay at: Holiday Inn Express & Suites Opryland- When a hotel has an indoor pool, your stay there automatically becomes that much more enjoyable and fun for everyone! The Holiday Inn Express & Suites Opryland is the prefect example of how your stay can be better for every one in your family. Their indoor pool is great for the family to enjoy some time relaxing and enjoying a good swim. Your family will be pleased to know that this hotel has an indoor pool where the weather does not affect the pool condition. You and your family will definitely have a good time staying at this hotel.
Indoor pool is open from 10 AM to 10 PM daily.
The Home2 Suites by Hilton Nashville has a large indoor pool that guests can swim in at any time during the year. Chairs of various sizes and designs surround the pool for guests to sit in when they don't want to swim. The indoor pool is heated so that guests are comfortable while they are enjoying the water. A hot breakfast is served each morning, and guests have access to a coffee maker and microwave in each room for added convenience.
Indoor pool and hot tub is open from 8 AM to 10 PM daily.
The Hilton Garden Inn Nashville-Vanderbilt, located in downtown Nashville, Tennessee, is the perfect choice when wanting a hotel with an indoor pool. The hotel offers free Wi-Fi, a hot tub, fitness and business centers, a restaurant and a gift shop. Accommodations are available as either rooms or suites. Rooms feature high speed internet, a television, microwave, refrigerator and a coffee maker. Suites also include a sitting room. Attractions close to the hotel are the Ryman Auditorium, Musicians Hall of Fame and Museum and Nissan Stadium. Nearby restaurants are those such as Losers Bar & Grill, Cook Out, Chuy's and DeSano Pizza Bakery.
Indoor heated pool and hot tub is open from 9 AM to 10 PM daily.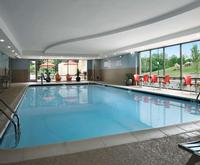 One of Nashville's top hotels is located near the center of the city's most popular areas. Not only is it nestled near most visited attractions, but Home2 Suites is "home away from home". The friendly hotel offers great features for guests including an indoor heated pool. While on vacation you wouldn't want to have to worry with the weather. An indoor heated pool allows visitors that peace of mind to still enjoy a swim even in the cold. Come visit Home2 Suites in Nashville on your next trip. You won't be disappointed.
Indoor heated pool is open from 7 AM to 10 PM daily.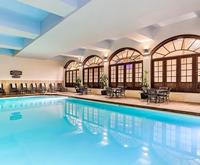 Rating:





Customer Rating:





Your hotel stays can be even better if you are waiting at the airport. The Embassy suites at the airport in Nashville will have you feeling like your king or queen with many great luxuries like an indoor pool, complimentary Wi-Fi and many other amazing amenities that will put a smile on your face and make you feel like you're in your home away from home. Improve your stopover even more by having a great stay in a place that is luxurious from top to bottom and is the perfect way to get your energy levels back up after a long flight.
Indoor pool
Located 20 miles away from Nashville, the Hilton Garden Inn in Smyrna is a great hotel built for travelers of all different backgrounds. As you get into the hotel, you can enjoy food from the Great American Grill which serves breakfast and dinner or you can grab something quick from the 24-hour Pavilion Pantry when you need something that you can take back to your room. Additional amenities of the hotel include an indoor heated pool so that you can enjoy swimming no matter what time of the year it is, and a golf course that has 5 holes for you to enjoy.
Indoor heated pool is open from 9 AM to 10 PM daily.
View all 28 Hotels with Indoor Pool