Willie Nelson At Grand Ole Opry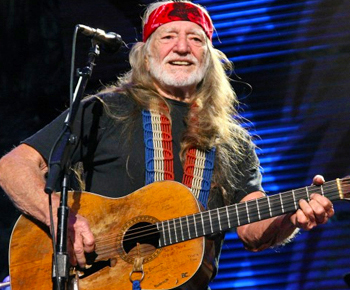 One of the most recognized artists in country music, Willie Nelson was born in April of 1933 in Abbott, Texas, during the Great Depression. Nelson and his sister were raised throughout their childhood by their grandparents, who taught them music. Nelson has listed among his influences Hank Williams, Bob Wills, Lefty Frizzell, Ray Price, Ernest Tubb, Frank Sinatra and Louis Armstrong, among others. After dropping out of college, he pursued a career in music in Vancouver. In 1956, he released his first album. In 1960, he moved to Nashville and continued pursuing his country music career. He played near Tootsie's Orchid Lounge near the Grand Ole Opry, where he met Hank Cochran. Until August of 1961, Nelson worked as a songwriter and a bass player in Ray Price's bad before he was signed as a recording audience. In 1965, his album Country Willie – His Own Songs was released and he joined the Grand Ole Opry.
Nelson has found great success throughout his career, winning a number of awards, releasing over sixty-five studio albums and charting at the Number One spot twenty-five times in the United States. His first Number One hit came in 1975 with the song "Blue Eyes Crying in the Rain." It was followed the next year with "If You've Got the Money I've Got the Time." Within the 1970s and 80s, Nelson charted at Number One with "Georgia on My Mind," "Blue Skies," "My Heroes Have Always Been Cowboys," "On the Road Again," "Angel Flying Too Close to the Ground," "Always on My Mind," "Living in the Promiseland" and "Nothing I Can Do About It Now," among others.
Throughout the years, Nelson has won a variety of awards, as well, including nine Country Music Association Awards, nine Academy of Country Music trophies and an induction into the Country Music Hall of Fame. Though he is no longer a member of the Grand Ole Opry, he does continue to tour and release new music currently.

Newsletter Signup
Signup to be notified when new dates are added:
Willie Nelson has
no current dates
scheduled at Grand Ole Opry.
Click here
for complete schedule. Sign up for newsletter to be notified when dates are added.